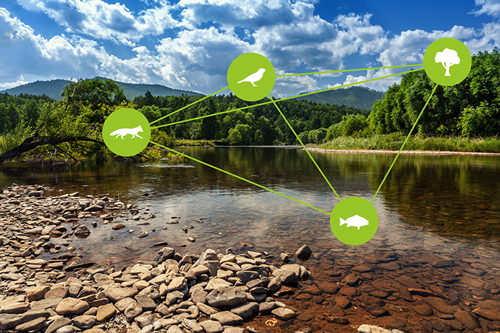 UNESCO Transboundary Biosphere Reserve Mura Drava Danube (TBR MDD) is connecting 12 protected areas in 5 countries along three rivers Mura-Drava-Danube into first world pentalateral biosphere reserve, also known as the Amazon of Europe (AoE). Project Amazing Amazon of Europe will enhance sustainable economic growth and tourism development based on distinctive natural and cultural heritage through sustainable development opportunities for managing diversity and resources from local to transnational level, while enabling unique experiences for international visitors.
The project Amazing AoE will provide included destinations with a joint and integrated solution for sustainable tourism, including:
Responsible Green Destination Tourism Impact Model, combining social and technological innovation,
joint strategy and management model for the destination,
joint flagship tourism products connecting top experiences along the rivers: River Trail, Hiking Trails, AoE Experiences,
six digital investments, and
model validation in 2 transnational pilot areas and training stakeholders for responsible green destination.
Iskriva institute leads the project with participation of 13 project partners and 15 associated strategic partners. The project is part of the Interreg Danube Transnational Programme and is co-financed by European Union funds.
Value of the project: 2,4 mio EUR
Start-End: July 2020 – December 2022