co-creating tourism
  for the future
Digitalisation of tourism created a huge gap between small and large stakeholders, where the latter have knowledge and access to expensive technologies allowing them to gather and manage big amounts of data. For this reason, large stakeholders rule the market often without sharing information and profit with local tourist service providers or governments. Initiatives such as Tourism 4.0 try to change that by initialising and boosting research and development in tourism.
In order to build a bottom-up systems using the key enabling technologies from Industry 4.0, gathering of information on the needs and wishes from all stakeholders of the tourism ecosystem is vital.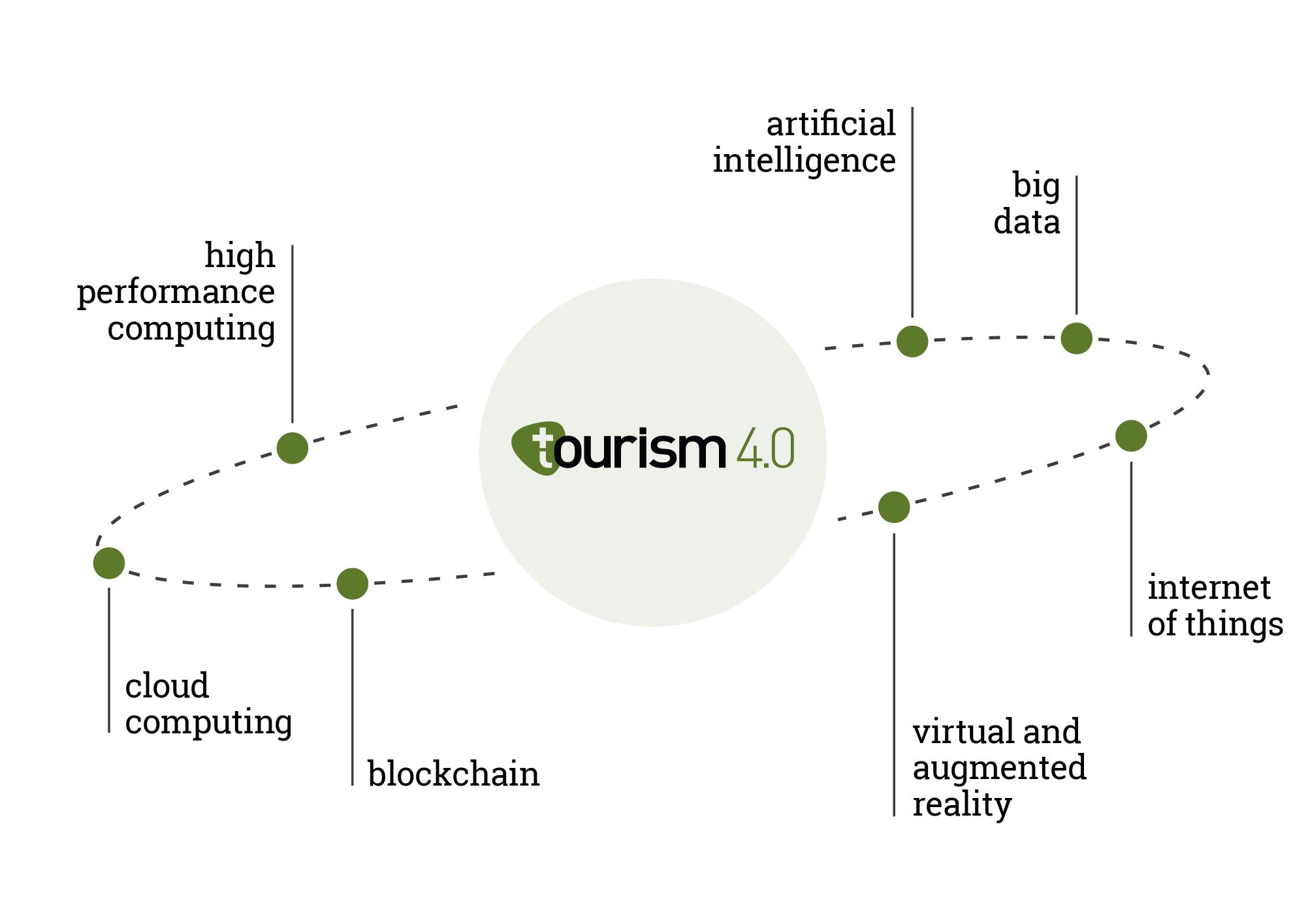 collaboration
Tourism 4.0 is a new paradigm adapting the concepts from Industry 4.0 to the tourism sector by introducing new business models supported with technology such as IoT, big data, blockchain, artificial intelligence, VR and AR. The technologies and digitalisation foster the dynamic collection of data that enables a new generation of digital tools, which create a space for a new dimension of collaboration. Some of these tools include indicators measuring environmental, economic, social as well as collaboration aspects to help understand the impact of tourism on a specific destination. The result of our activities will help destinations understand their limits and help them strategically act to develop destinations that people want to both visit and live in.
We acknowledge that data are not the sole key to the tourism for the future. However, collaboration is essential! Even though there are many organisations that collect various data, they do not create meaningful value out of them. The data are valuable only if an analysis turns them into useful information that can be helpful in making strategic decisions. Moreover, the data are truly beneficial when combined with the data of other stakeholders in the tourism ecosystem, which can provide unexpected insights and enable everyone involved to see and understand the big picture. The access to real data from all stakeholders of the ecosystem is hence invaluable for building a long-term strategy boosting positive impact of tourism in which local inhabitants (i.e. permanent inhabitants) and tourists (i.e. temporary inhabitants) live and nourish sustainability.
T4.0 initiatives are already acting to create support for this change by merging top level expertise and experiences of the tourism sector with cutting edge technologies. They help to transform data into valuable information that are the base of data-driven strategic thinking, comparison and thus clustering within the ecosystems. And, additionally, the creation of solution is fostered, such as advanced e-vouchers, secure digital IDs and other disruptive tools, which help all stakeholders behave as co-creators of the future, in which we all want to live in.