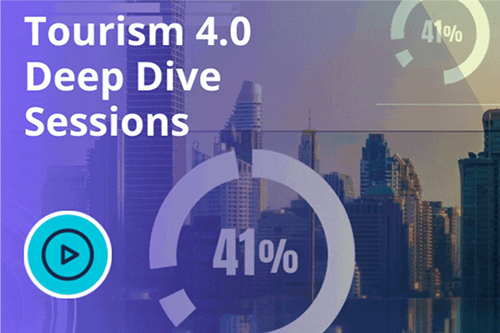 21.6.2022 / 11:00 CET: Internet of things (IoT), definition and application in tourism businesses.
Would you like to discover IoT applications for tourism SMEs?
The Internet of Things (IoT) offers new opportunities to connect the physical and digital worlds and thereby enables a more direct and active interaction between tourists and their surroundings. For example, the technology grants hoteliers the possibility to offer their guest value-added services by allowing them to manage e.g. room temperature and lighting through smart devices according to their preferences. It also allows tourists to engage with the destination and enhance their experience while offering valuable data to businesses and administrations.
In our 4th Tourbit webinar of the serie Tourism 4.0 Deep Dive sessions, we will give you an introduction to IoT applications for tourism SMEs and present you two practical use cases for your inspiration.
Join our #IoT #webinar on 21 June 2022 at 11h CET and you will find:
An introduction to IoT for Tourism SMEs, by Adalheidur Osk Gudmundsdottir, CEO at Vök Baths (Iceland)
A use case by Miguel Angelo Fernandes Silva, Founder & CEO at MTI - MANAGING THE INTELLIGENCE (Portugal)
A use case by Grégoire Tabard, Co-Founder of Affluences (France)
Interested? Then become part of the TourBizz Community now and sign up for this free of charge webinar here.
You can also directly register and connect to this Deep Dive session through Zoom.