BeyondSnow
Many small medium-altitude snow tourism destinations and communities across the Alpine Space area are facing climate change issues, especially regarding the diminishment of snow coverage. Climatic data indicate that this effect will considerably worsen in the future. BeyondSnow aims at increasing the socio-ecologic climate resilience of snow tourism destinations and communities and enable them to retain their attractiveness for residents and tourists, by specifically considering eco-system-based approaches. New sustainable development paths, transition processes, and implementable solutions will be conjointly devised within specific pilot working areas, which are spatially distributed across six Alpine countries, differing in size, development level and criticalities. 
Title:
Enhancing the Resilience of Alpine Space Snow Tourism Destinations and Communities to Climate Change
Financed by:
Interreg Alpine Space
Start – end:
November 2022 – November 2025
Value: 
2,7M EUR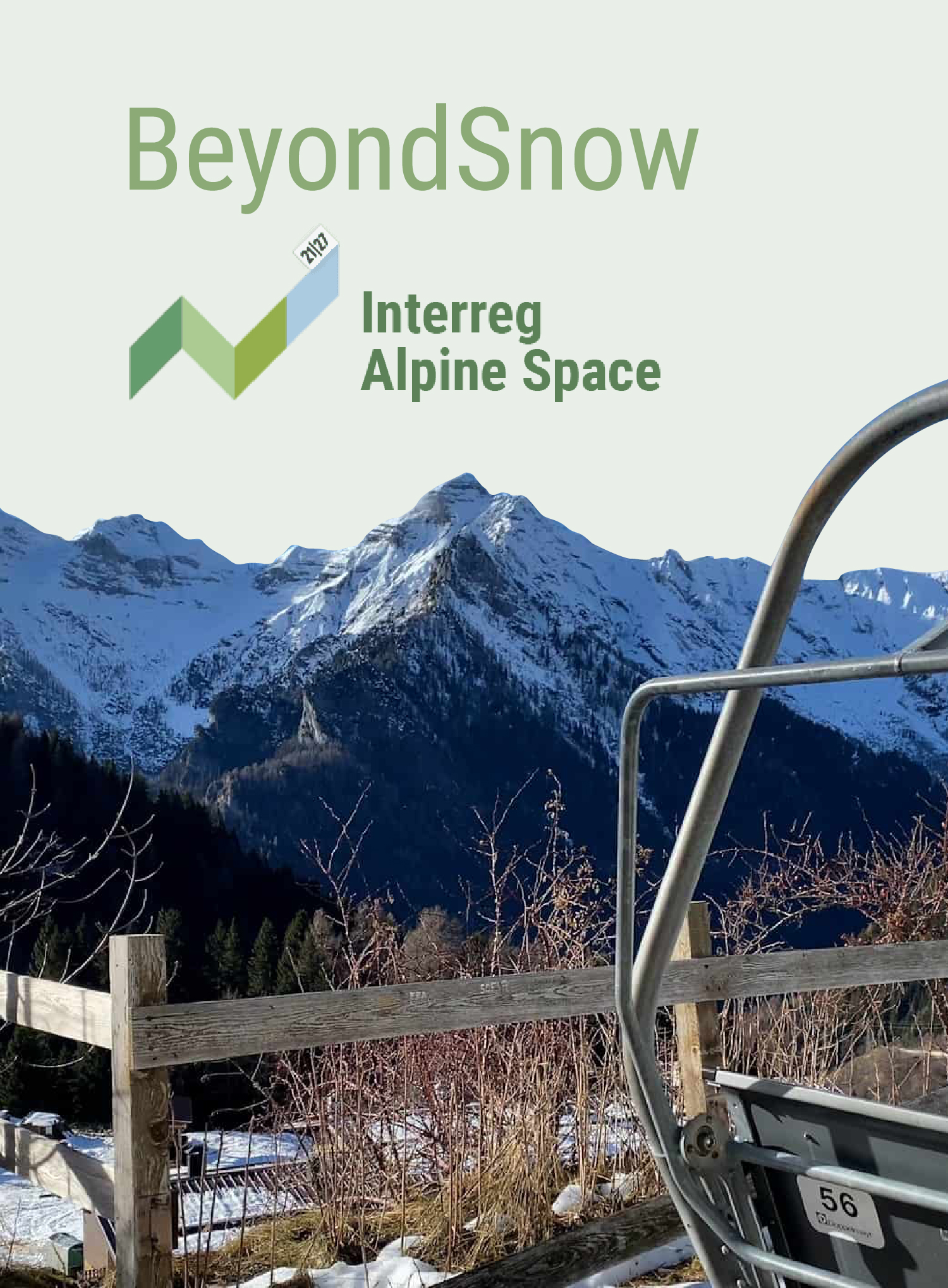 about 
   the project
Project acronym: BeyondSnow
Project priority: Climate resilient and green Alpine region
BeyondSnow partnership aims at addressing the relation between climate change induced current/future lack of snow coverage and socioeconomic effects on Alpine snow tourism destinations. Thanks to trainings and awareness-raising activities, citizens and decision-makers at the different technical and political levels will be involved in this process, targeting the achievement of the specific objectives of the project.
Objectives:
Final version of the Resilience Adaptation Model (RAM): At the beginning of the project the project partners are going to identify future climate scenarios, vulnerability indicators, and main transition models for snow tourism destinations, developing a theoretical and methodological design of the Resilience Adaptation Model (RAM) that is going to represent a theoretical model for the innovative and easy to us Resilience Decision-Making Digital Tool (RDMDT). The RDMDT is going to be made freely available and publicly accessible throughout the Alpine community. The RDMDT is going to be an automated assessment tool designed to collect quantitative and qualitative data, transforming it into enriched information, allowing local and regional authorities, development agencies and stakeholders to pursue eco-system-based data-driven strategic planning.
Pilot Actions for RDMDT implementation and resilience enhancement of the pilot working areas: By involving local communities and stakeholders, the project partners aim at field-testing and fine-tuning the RDMDT, as well as co-designing alternative development scenarios, sustainable transition paths and strategies for each pilot working area.
Policy recommendations for Alpine Convention, EUSALP & EU: The policy recommendations are going to meet the Alpine Convention working group results on climate change strategies, including the Alpine Convention Alpine Climate Board and the Climate Action Plan 2.0. The recommendations are going to guarantee a result transfer towards EUSALP, especially towards the EUSALP Action Groups 2, 3, 5, 6 and 8, as well as contributing to the further development of the EUSALP action plan. On the EU-level, policy recommendations are going to be developed in the light of the EU strategy for Sustainable Tourism.
Partners:
EURAC (Lead partner)
Legambiente Lombardia
Polytechnic of Turin
Metropolitan City of Turin
Mountain Community of Carnia
EGTC Alpine Pearls ltd
Development Agency for Upper Gorenjska
Arctur computer engineering d.o.o.
Deggendorf Institute of Technology
METABIEF SKI RESORT
Swiss Centre for mountain regions SAB
Community Network "Alliance in the Alps"
Association for the promotion of the transitions' factory