Tourbit
Digitalisation has the potential to boost innovation, to generate economic and environmental efficiencies and increase productivity. At the same time, it brings unprecedented opportunities for tourism SMEs such as the development of new products and services, processes, access to new markets and improved customer experience. The European project TOURBIT ('Fostering digitalisation of European tourism SMEs') understands that digitalisation opens opportunities but, like other global forces of the industry, poses many challenges to tourism SMEs. In that sense, its main objective is fostering skills and capacity and boosting the uptake of digitalisation and innovation , promoting resilient and competitive SMEs and spurring a faster transformation of the European tourism sector.
Title:
TOURBIT - Fostering digitalisation of European Tourism SMEs
Co-financed by: 
Project co-funded by the COSME programme of the European Union
Start – end:
January 2022 - June 2024
Value: 
1,3M EUR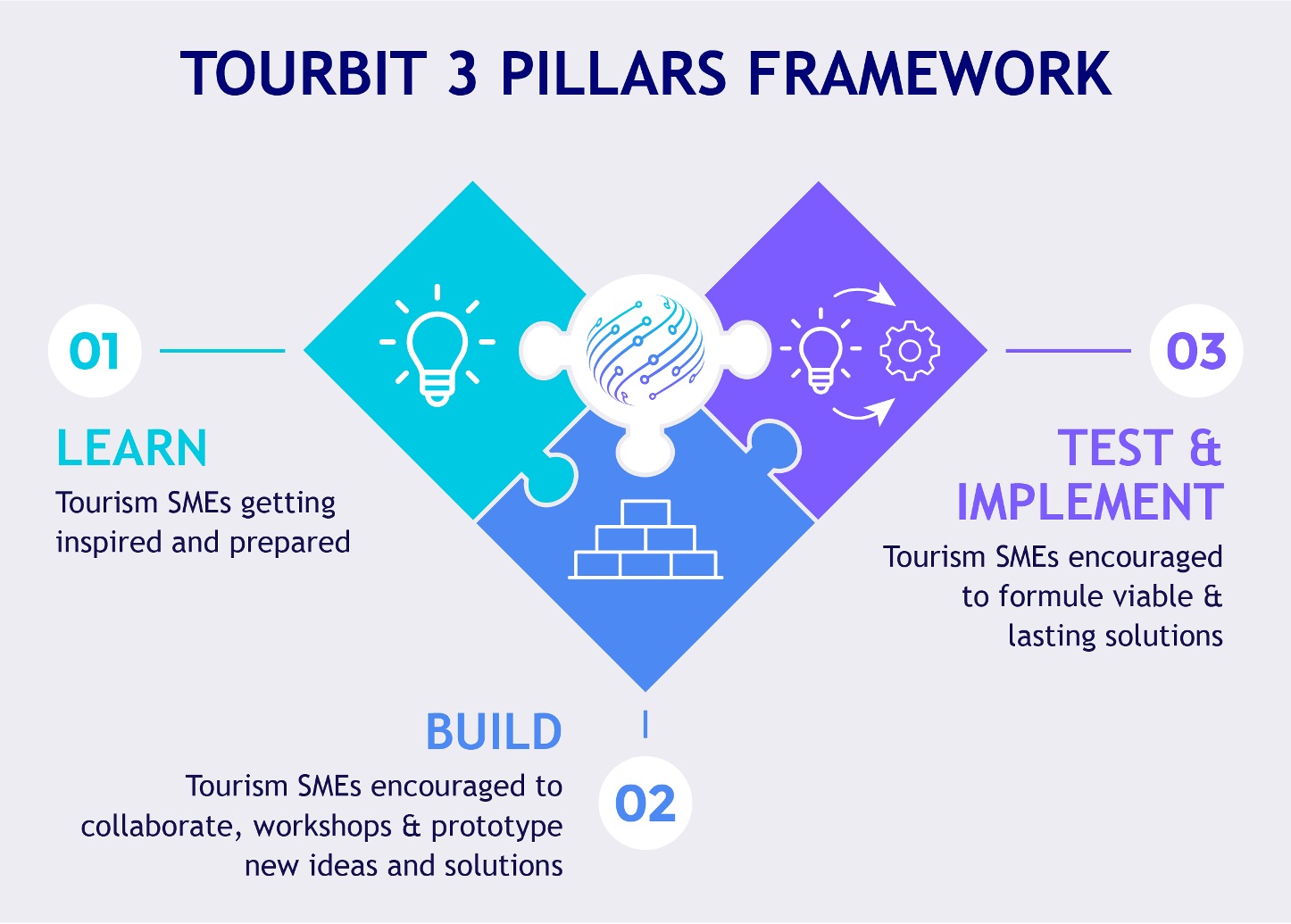 about 
   the project
TOURBIT partnership proposes a transnational and cross-ecosystem support-service scheme based on a framework of three pillars 'Learning, Building, Testing and Implementing' which goal is to enable tourism SMEs to cultivate their necessary capabilities to thrive in the digital age.
New and innovative digital technologies for the tourism industry will be mapped including the following 7 trending technology solutions: Data Analytics, Cloud Computing, Artificial Intelligence (AI), Internet of things (IoT), Blockchain, Cybersecurity, Virtual Reality (VR) and Augmented Reality (AR). Tourism SMEs will start their journey of digital transformation with the 'Digital Readiness Index', a self-assessment tool build on Arctur's AAT and offered online through the TOURBIT platform, followed by a complete programme of webinars to LEARN more about technology tools and innovative solutions. Connexion, knowledge and collaboration between tourism SMEs and key ecosystem players, especially start ups, will be encouraged through an online community on Tourism Innovation. Co-creating workshops and a virtual hackaton with the participation of stakeholders across Europe will complete the BUILD pillar.
Finally, as part of the TEST AND IMPLEMENT pillar, TOURBIT will also financially support 62 tourism SMEs from the 7 countries involved in the frame of the Digital Acceleration Programme (Call for proposals).
Partners:
Catalan Tourism Board, Spain (Lead partner)
Barcelona Chamber of Commerce, Spain
Paris Et Compagnie, France
Arctur d.o.o, Slovenia
Brussels Business Support Agency, Belgium
Lapland University of Applied Sciences, Finland
NEST – Tourism Innovation Center, Portugal
Iceland Tourism Cluster, Island