Web3 Accelerator
With every milestone achieved in the evolution of the Internet comes the realization that we are capable and ready to achieve more. Therefore, the time is now, to look toward the near future and boldly venture into the new world. A world shaped by Web3 technologies and use its potential to our advantage.
Blockchain, metaverse, edge computing, big data, VR/AR
and many other technological components will be closely looked at and discussed at the Web3 accelerator program in a simple, understandable, interactive and practical way.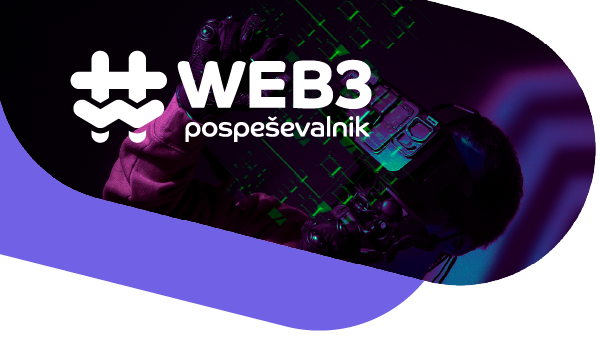 about 
   the project
Arctur has developed a series of workshops and meet-ups to introduce SMEs and companies receiving financial incentives from the Slovenian Entrepreneurship Fund to the new world of Web3 technologies. The programme offers companies a unique opportunity to further develop their business models, save time and prepare their companies for the challenges of the future. Workshops will be facilitated by Web3 technology experts and delivered in an interactive, understandable and practice-based way.
The first part of the programme includes six workshops that focus on different topics related to Web 3 technologies.
The workshops are as follows:
Using and innovating using blockchain technologies.
Business opportunities brought by cloud computing and "edge computing".
Metaverse and business opportunities brought by virtualisation.
Innovating using artificial intelligence and machine learning
Automation, hyper-automation and RPA opportunities in the business world.
Collecting and using big data for start-up companies.
You can apply for the workshops here.
The second part of the programme consists of three meet-ups designated for companies receiving financial incentives from the Slovenian Entrepreneurship Fund.
The meet-ups will focus on three different topics:
Application of virtualisation and AR/VR technologies in business.
Application of blockchain technologies in business models.
Using Big Data and AI/ML in Business
Additionally, the programme also offers a unique one-on-one mentorship for companies receiving financial incentives from the Slovenian Entrepreneurship Fund by Web3 technology experts.
The companies will get an opportunity to discuss their business models, and strategy ideas and get advice on the best ways to implement and use the Web3 technologies in their business.
Learn more about the programme and the facilitators by clicking here.
Partners:
Subcontractors:
Tecos, Razvojni center orodjarstva Slovenije
Blockchain Alliance Europe, z.o.o.
Dr. Urška Starc Peceny
Yotta Advanced Computing d.o.o.