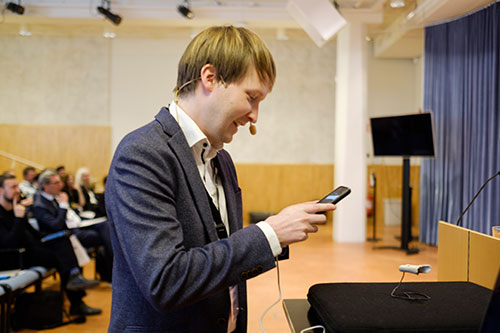 On April 18, the Museum of Ethnography in Stockholm has been hosting a conference on 3D materials of cultural heritage, titled "Accelerating 3D in the common European data space for cultural heritage: Why 3D matters". The event was hosted by the Europeana Foundation as part of the Sweden's Presidency of the Council of the EU and made possible thanks to the support of the Swedish Ministry of Culture.
The conference focused on 3D, exploring three-dimensional digitisation of cultural heritage as one of the main aspects of the common European data space for cultural heritage - a flagship initiative of the European Union to support the digital transformation of the heritage sector. A major goal of the data space will be to source and make available high-quality, usable and accessible 3D cultural data.
The European Commission has set ambitious 3D targets for 2030, and the Conference aims to support their achievement. As called for in the Commission Recommendation of 2021 establishing the creation of a common European data space for cultural heritage, in the course of this decade EU Member States should digitise in 3D all monuments and sites deemed at risk, and 50 % of the most physically visited.
During an inspirational ignite talk, Dr. Urška Starc Peceny and Matevž Straus from Arctur shared the story of a Slovenian initiative that involved digitizing over 100 immovable cultural heritage monuments. This digitization was used to create over 30 new tourist products that combined digital technologies, cultural heritage, and tourism storytelling. The audience appreciated the visionary ambition of the Ministry of Economic Development and Technology of the Republic of Slovenia.
In a subsequent session, Dr. Urška Starc-Peceny and Matevž Straus hosted an interactive workshop on 3D digitization. The goal of the session was to guide attendees through the entire 3D digitization process, including field capture, editing, processing, generating 3D models, viewing, preparing metadata, and final use and re-use. The audience was presented with a series of high-quality video clips that were specifically created for this occasion and demonstrated the process vividly. The workshop also included a demonstration of 3D digital capture using the oldest known musical instrument in the world, the Divje Babe Flute, which was printed as a 3D model.
The conference covered a range of discussion points related to 3D digitization, including storage, standards, and reuse scenarios. It emphasized the need to involve high-tech partners, like Arctur, in developing policy and implementation protocols to ensure the high quality, interoperability, and safe storage of 3D digitized assets.
The audience was highly engaged throughout the conference, and the feedback received at the end was extremely positive. This confirms the trailblazing nature of digital innovation in cultural heritage in Slovenia, to which Tourism 4.0 and Arctur have made significant contributions.