ENTER


  

2019
ENTER is an annual conference organized by the International Federation for IT and Travel & Tourism (IFITT), the leading independent global community for technologies in travel and tourism. There technology experts, local authorities and international companies like Expedia and IBM come together with academics from around the world to discuss and exchange ideas on industry problems, latest trends and the future of tourism.
Tourism 4.0 Partnership is building a bridge between high technology and tourism. The first step is educating all stakeholders in tourism about the possibilities that technology brings to the sector.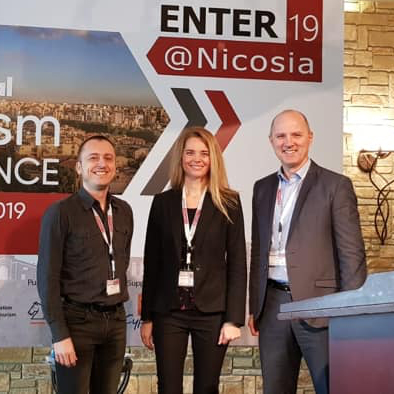 inspiration
At the panel moderated by Dimitrios Buhalis, the world renowned expert on technology in tourism, Urška Starc-Peceny and Tomi Ilijaš, the co-initiators of Tourism 4.0, were speaking mainly about the importance of collaboration that is key to the paradigm shift in the sector. On the other hand, Dejan Križaj, co-founder of AIRTH and the Innovation module lead of the Tourism 4.0 TRL3-6 research project, focused his talk on innovations that contribute to the sustainable development of destinations and hospitality businesses.
The aim of Tourism 4.0 is to bring the tourism industry to the digital era once and for all while encouraging travellers to explore destinations off the beaten path, in order to boost local economies as it stands in the press release published by Cyber Strat: "The idea is to boost local economies by encouraging travellers to seek experiences off the beaten path and explore what the country has to offer more holistically, whilst simultaneously facilitating safer transactions free from exchange fees. Transactions are made safe by the clever use of distributed ledger technology."