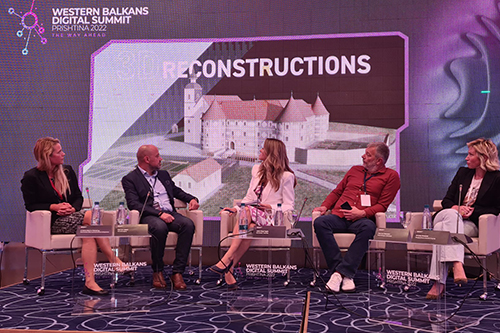 The 5th edition of the Western Balkans Digital Summit 2022, 21.-22. 9. 2022, organised by Prishtina REA, was opened by the Minister of Economy, Artane Rizvanolli and Mariya Gabriel, the European Commissioner for Innovation, Research, Culture and Youth.
Tourism 4.0 was represented by Tomi Ilijaš and Dr Urška Starc Peceny as moderator/keynote panellist at the Summit.
The Summit aimed to promote the Western Balkan's digital perspective in the context of EU Integration. This year`s focus areas were:
Youth and Digital Skills
Infrastructure & Services Connectivity
Digital Economy
Trust and Security
The event hosted high-level participants from the European Commission, EU member states, RCC, representatives of the Western Balkan countries, International Financial Institutions, renowned experts in the ICT sector, and representatives of the private sector. Altogether, more than 60 speakers, 200+ businesses, 30 NGOs and other experts, academics and enthusiasts of the ICT & Digital sector from the region, Europe and America.
Tourism 4.0 shared experience and inspiring stories through:
Tomi Ilijaš, Arctur`s CEO, moderated the roundtable "Investment sources for the digital economy" with the final conclusion that it is always hard work that needs to be updated all the time in a business environment which is rapidly evolving but there is also a golden part and we have to get the best of this period called the digital age.,
Dr Urska Starc Peceny, Chief Innovation Officer & Tourism 4.0 Lead, shared her point of view and her experience with "Digital marketing, the fueler of creator economy", where she presented the Slovenian path toward Digitising Cultural Heritage that has put our country in the top spot of countries working in this area. The conclusion of the round table was to keep an eye on the creative economy at all times.