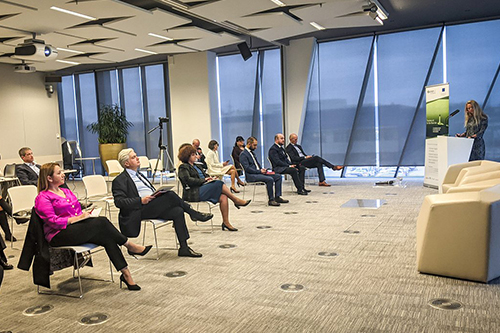 The Tourism 4.0 for the Black Sea (T4BS) High-Level Forum - Tourism, Digitalisation and Sustainable development for the Black Sea, hybrid event, took place in November 2021 at the Crystal Palace in Ljubljana, Slovenia.
The event featured prominent speakers including Valentina Superti, Director of the European Commission's Directorate-General for Internal Market, Industry, Entrepreneurship and SMEs (DG GROW), and presented findings of the T4BS project, running since 2019, and promoted byArctur, HCL Management, Sano Touring Experience, NGO Agricola, Ovidius University of Constanta, Tourism Institute and co-funded by the European Union.
The following key challenges were addressed in a highly interactive panel session:
Lack of data-sharing among players to support data-enabled solutions.
Low level of digitalisation of tourism destinations.
An insufficient knowledge base of the tourism ecosystem (monitoring, identification of data sources, data leveraging).
Speakers and panellists:
Carl Hartzell, Head of the Delegation of the European Union in Georgia,
Laszlo Borbely, State Counsellor to the Prime Minister in the Government of Romania,
Rositsa Stoeva, Executive Manager in the Black Sea Economic Cooperation (BSEC) PERMIS,
Peter Janech, Deputy Director of the Regional Department for Europe of the UN World Tourism Organization (UNWTO),
George Tziallas, Regional Director for Europe and Africa for the World Travel & Tourism Council (WTTC),
Patrizia Busolini, Policy Officer from the European Commission's Directorate-General for Maritime affairs and fisheries (DG MARE),
Agnieszka Kempny, Project manager from the European Climate, Infrastructure and Environment Executive Agency (CINEA),
Stavros Kalognomos, Executive Secretary, Balkan and Black Sea Commission of the Conference of Peripheral Maritime Regions (CPMR),
Irakli Koplatadze, Ambassador to the Republic of Slovenia, and the project promoters.
More about the event is available in a press release
T4BS Declaration available here