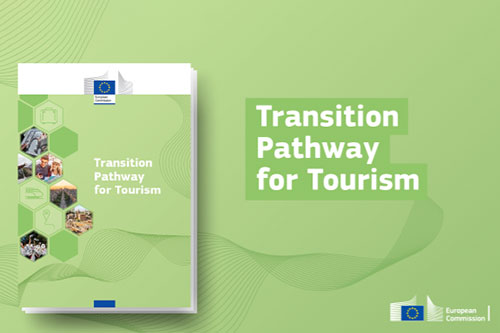 In February during the EU Industry Days 2022, the European Commission presented the Transition pathway for Tourism.
In the opening of this spotlight event on tourism, the Commissioner for Internal Market, Thierry Breton, said:  "I am very pleased that we can present to you today the result of months of cooperation among all stakeholders. By working hand-in-hand we have come up with a common vision for EU tourism and agreed upon the ways to achieve it. This pathway will set the agenda for European tourism for the decade to come. Today I would like to invite all stakeholders to join the co-implementation process".
The Transition pathway is a plan jointly created with actors of the tourism ecosystem detailing key actions, targets and conditions to achieve the green and digital transitions and long-term resilience of the sector. The Tourism 4.0 team participated in the consultation process in two workshops 1) Data analytics and real-time experience management, and 2) Digital empowerment and knowledge of tourism providers and consumers. The results from the consultation showed that cross-stakeholder collaboration is essential due to the necessity of setting ambitious targets for 2030, that require immediate and substantial efforts from all, in order to give Europe the opportunity of a prosperous future for all. Moreover, Tourism 4.0 Committed to contributing to the Transition pathway for Tourism goals
On September 13th 2022, Brussels hosted the co-implementation event, where Tourism 4.0's Chief Innovation Officer & Tourism 4.0 Lead Dr Urška Starc Peceny was presenting our colours. The Tourism 4.0 team is extremely proud to be part of this journey and is looking forward to future inspiring collaborations.