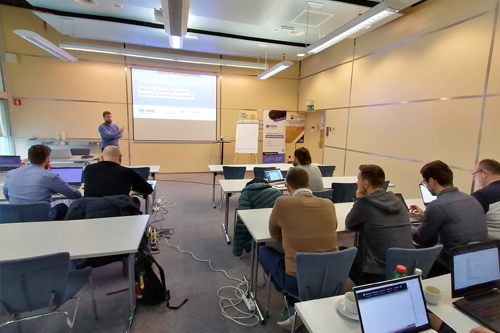 The final instalment of our Web3 Accelerator programme ventured into the world of Big Data. The workshop took place on Thursday December 15th at the premises of the Chamber of Commerce and Industry of Slovenia in Ljubljana.
Tomislav Šubić, director of Yotta Advanced Computing and an expert in high performance computing (HPC) and artificial intelligence (AI) processes, presented the Big Data's technology theoretical framework and clearly displayed the process of data acquisition and data preprocessing techniques.
Key takeaways from the workshop are:
Nowadays, companies acquire large amounts of data on a daily basis. There are several ways companies can make use of this fact. The choosing between various available data processing techniques ultimately comes down to the company's goals, namely: is acquired data part of a service that the company intends to sell or does the company intent to use acquired data to make better business decisions? Data is an extremely valuable commodity for the company, as it can create added value.
Companies need to recognise big-data-usage in their own business to produce more innovative products or services. By introducing a big data implementation strategy in its processes and creating a team of data professionals, companies can become new market leaders, as in today's world decisions are based on data.
For an agile startup company, it is vital to use a tool that is user-friendly and easy to use. The Jupyter Notebook is one of the simplest tools out there. It operates on any computer or browser, allowing its users to upload additional external libraries and create effective reports.
This 6th workshop concluded the Web3 Accelerator programme organised by Arctur on behalf of the Slovene Enterprise Fund. The programme consisted of several workshops accessible free of charge. Lectures were led by outstanding speakers, providing in-depth analyses of emerging Web3 technologies such as blockchain, edge computing and cloud computing, artificial intelligence, machine learning, metaverse and virtualization, and ICT. Inspired by examples of practice, participant entrepreneurs became equipped with new knowledge that they can now skilfully use on their path to innovation.
Thank you to all who contributed!