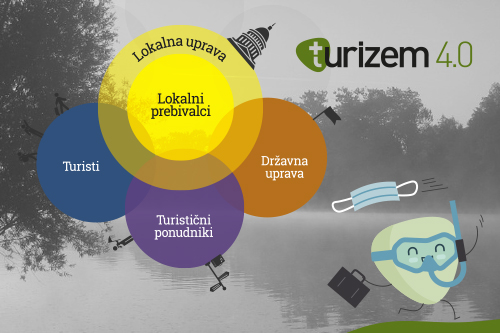 Tourism is slowly beginning to recover, therefore now is the time to move the development to the right direction. The digitalisation era is slowly changing the way we think and take decisions.
Tourism 4.0 TRL 3-6 is the largest research and development project in the history of Slovenia dedicated to tourism. Since the beginning of the project in 2018, numerous breakthrough innovations were developed. Many of them were recognised and awarded on a national and international level. In addition, the innovations have a positive cross-sectoral effect (transport, energy, the circular economy, medicine, food, sports, etc.).
Therefore, we organised a national conference, the biggest event in Slovenia in the field of Tourism 4.0 and digitalisation. The results of the Tourism 4.0 TRL 3-6 project and other activities within the Tourism 4.0 initiative both nationally and internationally, were presented to the wider audience. Primarily, our focus was on the future.
With the purpose of identifying the 10 key points of Tourism 4.0 development, key stakeholders from the:
Slovenian ministries – state Secretaries from the
Ministry of Economic Development and Technology,
Ministry of Education, Science and Sport,
Government Office for Development,
European Cohesion Policy
the representatives from the
Ministry of Culture,
UNESCO Office Slovenia,
Public Agency for Entrepreneurship, Internationalization, Fore­ign Investments and Technology,
Association of Municipalities and Towns of Slovenia,
Mayors of Slovenian Municipalities,
Slovenian Tourist Board,
Strategic Board for digitalization,
companies,
academia,
R&D companies from the real sector,
media
foreign experts:
Patrick Torrent Queralt, Executive Director at Catalan Tourist Board & The president of the NECSTouR network,
Mamuka Berdzenishvili, Executive Director of Tourism Institute Georgia,
Prof. Dr. Frederik Truyen, Faculty of Arts, KU Leuven, Netherlands,
Prof. Dr. Neil Forbes, Coventry University, UK,
were invited to present their experience and opinion on how the local communities can benefit from the knowledge and innovations from the Tourism 4.0 Partnership. Together with the guests we outlined guidelines for further transformation of the tourism industry through innovation, knowledge, technology and integration. The identified 10 key points of Tourism 4.0 clearly show that we have set the solid basis for the development, that already started not today, but yesterday. As the development of tourism is an ongoing process and for sure the key points will be upgraded and modified in the future, you are kindly invited to send us your proposals.
The video of the conference is available in Slovene language.