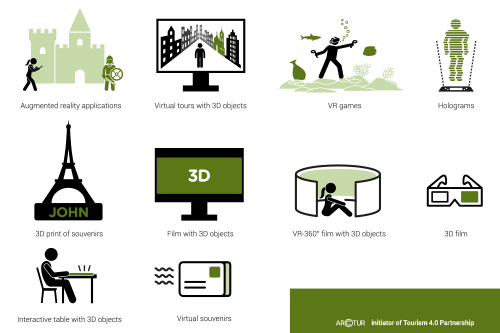 Having your own mobile app has become a trend for many heritage interpretation organisations. With increasing demand for new ways of presenting, interpreting and educating users of different ages and backgrounds, digital tools indeed present a novel approach to conveying the message of cultural heritage. But not all solutions are good, right?
In a research project "Heritage in Action: Participatory methods and digital learning sources for inclusion of youth in heritage practices and education" co-funded by the Slovenian Research Agency (Contract no. 1000-19-2367) and Ministry of Culture of the Republic of Slovenia (Contract no. 3340-20-128002; V6-1922) two partners, ZRC SAZU and ARCTUR are researching and developing participatory methods, in order to bring cultural heritage to the elementary and secondary school pupils in an interesting, creative and modern way. The challenge that the project aims to address is how to motivate the young to find greater interest in heritage.
One of the first steps is to scan the existing solutions – either good or less good. From an overview of more than 70 apps, websites and experiences, we picked out those that best represent the variety of possible solutions and stand out from the crowd.
The overview (in Slovene) is far from exhaustive, but it shows the general trends and clusters of similar solutions. We can conclude - despite a great diversity of solutions that comes from different content (immovable heritage, intangible heritage, arts …), aims (entertainment, professional explanation, motivation), digital capture technologies (3D models, archive photos, 360-degree photos, audio clips, texts) and digital presentation technologies (web-based solutions, mobile solutions and physical-digital experiences), as well as financial constraints (from enthusiasts' projects to large media house's projects) - that the key to successful solutions is finding the balance and symbiosis between content, user experience and technology. The latter binds the previous two into an experience. 
Moreover we found that very few solutions are dedicated to education, but tend to favour information and transmission of facts.  Unfortunately, the processes of understanding, contextualisation, critical thinking and creativity are often of secondary importance.
These insights will be the starting ground of further projects activities. The main goal of the research project is to develop a model and to test the digital learning source prototype, and to bring closer to the young the various approaches to heritage practices and digital heritage content.
The project team will produce two main practical results:
The manual: will include a detailed presentation of participatory methods and methods for designing ICT tools (video, 3D animation, augmented reality, mobile games) to help teachers, professors, experts from heritage institutions, youth workers, etc. facilitate experiential education focused on cultural heritage and raising awareness about the local and national heritage.
The digital learning source prototype: will be designed and developed by primary and secondary school students from the Municipality of Ajdovščina (the location of the pilot study) to facilitate better promotion and education about cultural monuments in Ajdovščina (to be used by the Municipality of Ajdovščina, a local, Regional museum Nova Gorica or the Lavrič Library Ajdovščina).
Want to join? Get in touch!