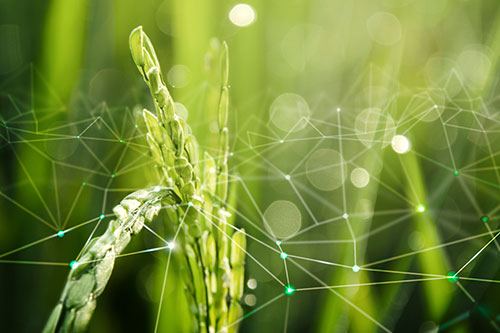 In October 2022 we gave you some general information about the Blockchain for agri-food educators consortium who has since the kick-off meeting already done a lot of work. Today, it is time to share with you some of our intermediate results!
In the last weeks all partners of the consortium were involved in conducting questionnaire research with educators and academics in their respective countries. The scope of the conducted interviews is to define how blockchain technology and best practice applications can be incorporated into teaching.
The target groups of the interviews were educators from different departments, such as food, agricultural and technology. Educators provided experiences and basic knowledge about the Blockchain technology. In addition to that, they shared their knowledge of best practices about the use of Blockchain in the industry or other applications (sectors as food, agricultural or technology). Some of them also gave insight into why they have not yet implemented Blockchain in their education.
The aim of the interviews is the inclusion of the network of higher education organisations to enrich the theories and findings of the literature review with the final goal to construct a Guideline for educators to adopt Blockchain technology in their education to prepare students for future required knowledge in the industry.
Put simply, the interviews aimed to address the following fundamental questions:
What aspects are currently hindering the implementation of blockchain technology in teaching?
How do educators (technology, food and/or agricultural) teach Blockchain technology in higher education institutions?
What opportunities and possibilities do blockchain offer?
Interviews that were conducted by Arctur show the following results:
All Interviewees have knowledge about blockchain (50 % have advanced knowledge and 50 % have basic knowledge).
They gained knowledge about this technology mostly in the work environment (50 % directly in the work-related environment, 50 % when talking about blockchain with colleagues or hearing about it in news or on the internet).
Teaching about blockchain is not yet widely spread (25 % of interviewees acquaint students with basics of blockchain technology, 25 % organise events about all aspects of blockchain technology, 50 % do not (yet) teach about blockchain).
All interviewees agree that courses about blockchain technology are currently implemented on IT-related universities or some private universities. They also agree that blockchain course implementation on other higher education institutions is dependent on individual professor's engagement, but in general no blockchain-related courses are currently implemented within the scope of a broader higher education institution field.
Within the scope of higher education institutions currently approximately 200 to 300 studentshear interviewees talk about blockchain per year (including Bachelor degree students, Master's students and PhD).
In the interviewees' opinions, the main reasons for scepticism towards blockchain technology are the fact that there are not yet a lot of examples of use of blockchain technology, that people are by definition sceptical towards new technological innovations and that the right information is not yet coming to the people that are developing the higher education institutions curriculums.
As prospective teaching methods 75 % of interviewees see that case-based teaching would prove best to teach about blockchain technology (showcasing use cases) and 25 % see game-based teaching as the best method to teach younger generations.
Interviewees listed the following use cases that can be thought to students: 25 % mentioned various cryptocurrencies, 50 % NFTs, 50 % blockchain for the traceability of various transported goods. All agreed that anything else is not yet globally recognized and students would not see any added value in it.
All interviewees agree that non-IT students need to understand what blockchain technology is and how to use it (practical knowledge, basic theoretical knowledge), without being expected to understand blockchain technology on an expert level.
All interviewees are not sure if there is currently much space for non-IT students, trained in blockchain technology.
The following risks of blockchain technology implementation were mentioned by the interviewees: excessive energy use, transparency (a lot of information can be hidden by breaking it into smaller pieces and obscuring it via multiple smaller transactions), possibility of total control (transparent data is stored on an immutable ledger), a faulty perception that blockchain represents a guarantee for the accuracy of data (if data stored on blockchain is false, blockchain cannot rectify that).
These interesting results provide insights into the current state of knowledge and attitudes towards blockchain technology in education and highlight areas for further actions that need to be taken in order to establish the baseline of the teaching of blockchain in agri-food education in Europe. Based on the results we can conclude that recommendations must be given for the pedagogic strategies best suited to teaching the skills required for blockchain integration in the agri-food sector. Thus, Arctur's efforts to support the development of publications and new pedagogic content and teaching resources to integrate blockchain teaching into higher education institutions' curricula will be very valuable.