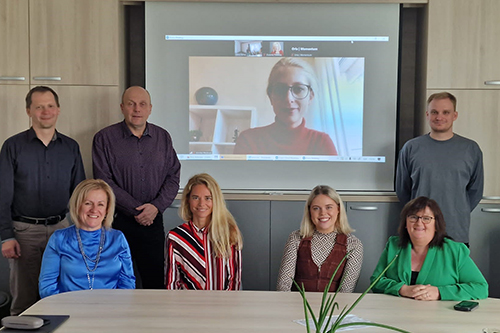 Have you ever heard terms like blockchain, the EU and agri-food and drink sector mentioned in the same sentence? If not, there is a lot of room to innovate and at Arctur we are excited to do just that, co-create changes via innovative products and services.
The EU is already pursuing high-profile blockchain initiatives like the European Blockchain Partnership and European Blockchain Observatory. However, these efforts concentrate on the regulatory environment, infrastructure and large industries, leaving a risk of a widening digital gap.
Together with Slovak University of agriculture in Nitra, Czech University of Life Sciences Prague, Momentum Marketing Services Ltd., FH Münster University of Applied Sciences, and European E-learning Institute, Arctur formed the Blockchain for Agri-Food Educators consortium, aimed at developing a sector-focused, educator-focused set of resources, teaching methods, and practical application skills to utilise BC in the fast-changing agrifood sector.
Why target Higher education institutions educators one might ask? According to the OECD, the education sector is slow to innovate and only 38% of providers are at the forefront of adopting innovations, new knowledge or methods. As the agri-food and drink sector remains the largest industrial manufacturing sector with annual turnover for food and drink manufacturing exceeding €1.109 trillion, and with 4.57 million employees across the European Union as a whole, and the COVID-19 pandemic highlighted the need for the integration of more digital technology into the sector, this is a time when innovation in education was never more needed. Educators simply need to provide leadership as the use of blockchain in agriculture and food is forecast to explode in the coming years.
The goal of the Blockchain for Agri-Food Educators project is to stimulate innovative learning and teaching practices across the EU to better meet the learning needs of students and reduce skills mismatches, being relevant for the wider society.
Arctur as a Hi-Tech SME specialises in blockchain. Taking for example the T4.0 Core project – fully operational platform, built on state of the art HPC infrastructure supported by AI, blockchain and HPDA, DOTI – a personal digital passport and Collaboration Impact Token (CIT), to name just some of the Tourism 4.0 blockchain-related innovations, one can see that Arctur is a natural match for such an initiative. Having substantial experience, Arctur will thus enrich the project with a varied network of stakeholder contacts in the food, technology and education sectors. In addition, Arctur will increase technological understanding within partner organisations and wider, significantly contributing to establishing the baseline of the teaching of blockchain in agri-food education in Europe. Putting forward recommendations for the pedagogic strategies best suited to teaching the skills required for blockchain integration in the agri-food sector, Arctur will support the  development of publications and new pedagogic content and teaching resources to integrate blockchain teaching into higher education institutions' curricula.
Arctur also participated in the project's Kick-off meeting, organised in Nitra, Slovakia, on 19th October. All the project partners are looking ahead, assisting the agricultural and food sector to deal and manage predictable dangers and maintain affordability throughout the ecosystem through blockchain.