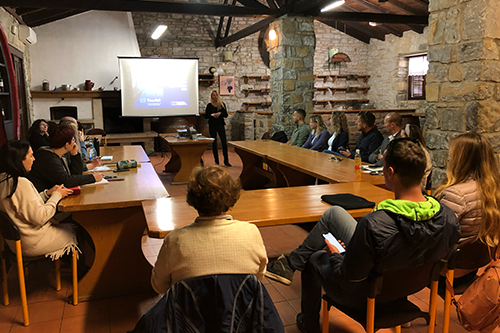 The digitalisation of tourism SMEs is in full swing! Arctur, a partner in the COSME project Tourbit held a co-creation workshop yesterday (17.10.2022) for Slovenian tourism SMEs. At the workshop, the tourism expert Tanja Lešnik Štuhec from the University of Maribor and digitalisation experts Urška Starc Peceny and Hrvoje Ratkajec from Arctur discussed with tourism SMEs the challenges and business perspectives of collaborating together under a collective trademark and implementing it using advanced digital technology and solutions.
Thank you for your participation Mateja Hrvatin Kozlovič from Guesthouse Green Istria, Andrej Pongrac from Dežela Refoška, Veronika Dobrinja from Dobrinja Residence, Mojca Bordon from Vina Bordon, Matjaž Sever from Vila Molet, Žiga Vatovec from Hiša Robida, Vesna Vodnik from Tribu, Doris Božič from Hostel Museum and others!
The discussion was very positive and after the formal part, it continued in a relaxed tone on a sunny spot where the local wine fountain overlooks the Slovenian coastline. Cheers to new collaboration and digitalisation!