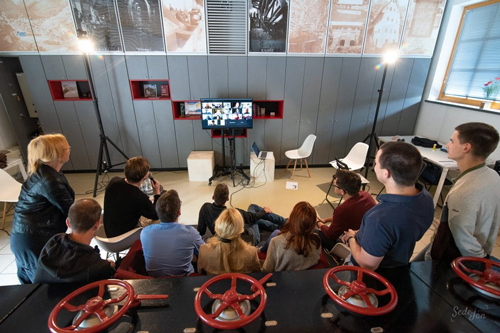 At the end of May, a virtual HeritageHack, a 3-day hackathon dedicated to cultural heritage, was organized by the Idrija 2020 + ID20 Institute. 45 participants tried to solve two challenges faced by the heritage sector and propose new business ideas.
Participants were divided into 14 groups and were faced by two challenges that were jointly prepared by cultural heritage institutions and organizations from the Idrija-Cerkno region. As part of the first challenge theparticipants were looking for new content for heritage sites: the Idrija Mercury Heritage Management Centre (CUDHg) with the Hg smelting plant, the Idrija Municipal Museum with Gewerkenegg Castle and the ID20 Institute with a miner´s house. In the second challenge, competitors sought solutions to overcome the closure of traditional events due to Covid-19 restrictions. Thus The Idrija Tourism Board has brought to the forefront the well-known Idrija Lace Festival, the Municipality of Cerkno has been looking for a new solutions for Laufarija, a traditional carnival event, and the Idrija Youth Center for the Idrija Žlikrof Festival, a festival dedicated to traditional miners' food delicacy.
The extent to which a certain solution met the criteria of entrepreneurship, social innovation and protection of cultural heritage has been judged by a three-member expert jury. The results showed that young people are interested in heritage and that the region of Idrija-Cerkno still hides a lot of development opportunities.
The event was not dedicated only to competition and pre-registered teams but also to those who were interested in the potentials of cultural heritage. On this occasion the round table titled: "How and where to look for the opportunities in cultural heritage?" with invited experts was organised too. 
Find more information about the event and the hackathon results here.