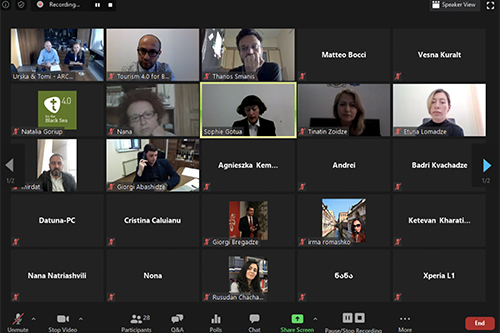 Due to the travelling restriction of the pandemic the first workshops in Ukraine and Georgia within the Tourism 4.0 for the Black Sea project has been organised online. The webinars on Data Analysis for Sustainable Tourism Development Strategies have been nevertheless well attended and supported by the key local stakeholders in each country as well as the local media.
Moreover, translation in the local languages has been provided for the presentations and the following discussion between the webinar participants and the keynote speakers Thanos Smanis and Matteo Bocci from HCL Management, and Tomi Ilijaš and Urška Starc Peceny from Arctur. We are grateful to the Odessa Regional State Administration and Odessa City Council, Municipality of Vylkove, National Academy of Science of Ukraine, Ukrainian Scientific Centre for Ecology of the Sea, Odessa Ecological University, Ukraine Institute for National Memory, Odessa Tourism Association, Batumi Tourism Agency, Maritime Transport Agency of Georgian Ministry of Finance, Batumi City Hall, Kobuleti Municipality for the support and cooperation in transforming the perception of tourism at the Black Sea. Furthermore, there have been some students and ordinary citizens, who are interested in advanced technology solutions in tourism, joining the workshop since the events were open to the public.
There is a high interest among various stakeholders of the local tourism ecosystem for the benefits that technology can bring to development of sustainable tourism in the region. Hence, the project vision for data driven tourism at the Black Sea as well as co-creation of tourism for the future with the Tourism 4.0 Partnership have a bright future.