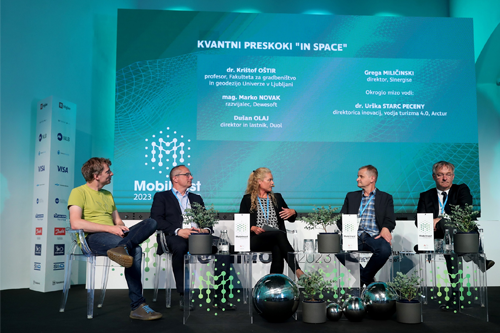 On June 7th, the Mobilnost 2023: Re:INNOVATING Mobility conference took place, marking the conclusion of the eponymous year-long business campaign by Slovenian media house Delo. The theme of the conference, "Re:Innovating Mobility", spoke to the evolving concept of mobility and the need to overcome boundaries that are driven and defined by the current space and time. At the event, discussions covered a wide range of topics, including e-mobile movement, smart cities, safe and responsible data collection, data analysis, development of new competencies and talents, and mobility in space and metaspace, strongly emphasising multi-disciplinary exchange.
Tomi Ilijas, CEO, and Dr Urska Starc Peceny, CIO and lead of Tourism 4.0, represented Arctur at the conference and spoke at the panel discussion dedicated to the re-invention of work and smart use of space data.
Notably, the mobility aspect of digitization, including the development of Artificial Intelligence (AI), digital twins, and analytics as an opportunity to increase the efficiency of work processes and decision-making - technologies which are central to the Tourism 4.0 initiative - emerged as important discussion points over the course of the conference.
The event recording is available to watch online here.