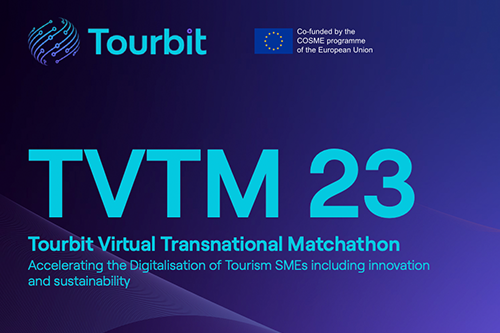 This year's two-day Tourbit Virtual Transnational Matchathon (TVTM), which will take place on June 15th & 16th, promises to be an unmissable event for all tourism SMEs interested in accelerating their digitisation, innovation, and sustainability.
The first day of the event (June 15th), which is open to all tourism SMEs and service providers, invites attendees to get inspired by a morning filled with conferences on the latest trends, challenges, and essential aspects that every tourism SME should consider in order to drive innovation and sustainability in their digitalisation efforts. Tourism SMEs will also have the opportunity to discover new services and innovative solutions to sector-wide challenges through a series of quick presentations pitched by Service Providers from our TourBIZZ community. Furthermore, guests will have the chance to participate in four specialized thematic rooms tailored to address their specific challenges: business model innovation, product innovation, digital marketing, and social and environmental sustainability.
The second day of the Matchathon (June 16th) will be open only to awarded Tourbit SMEs  entering into the Tourbit Digital Acceleration programme. These successful candidates – also from Slovenia, will be given the chance to attend bilateral meetings with Service Providers with the aim of making succesful matches to overcome the challenges faced by SMEs and to implement their digitalisation projects. Experienced mentors will be there to help facilitate the matching process. Further information about the evnts taking place across both days can be found on the TVTM 2023 agenda.
As an unparalleled opportunity to boost your business's digital capacities, innovation and sustainability, interested SMEs are recommended to register their interest right away!
Tourbit is co-financed under the Cosme programme.