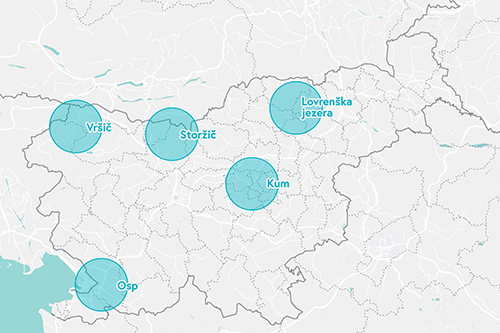 The title of November's most visited Slovenian hiking trail goes to the trail from Vršič to Slemenova Špica! 
Congratulations?
In the course of the Mountaineering 4.0 project, Arctur, as one of the subcontractors of the Mountaineering 4.0 project, led by the Alpine Association of Slovenia, CIPRA Slovenia and Alpine Club Tržič, set up 29 footfall monitoring sensors for the visit of hiking trails at 5 popular locations: Osp, Kum, Lovrenška lakes, Vršič and Storžič. 
The sensors collect GDPR-compliant up-to-date data on visits to popular locations to enable a better understanding of the visits in the Alpine area and to support the sustainable rerouting of visitor flows.
Why is this important? The severe overload visits of sensitive Alpine ecosystems and the exceeded carrying capacity of the areas require new measures for the effective dispersion and redirection of the flows of visitors. Next step is thus to combine the data received via the network of footfall sensors and combine it with other existing real time data sources (weather data, mobile signal users, overnight stays in mountain huts etc.).
The project's overall aim is to collect and connect various data sources to improve the understanding of visitor flows to help develop efficient place-based tourism strategies and action plans, as enabling the development of smaller towns along the main hiking paths via the redirection of visitors to less crowded destinations on actual up-to-date data offers ample opportunity to develop new unique and sustainable tourist opportunities.
A particular challenge though is the acquisition of data. There is not only a question on how to interconnect data from different data sources, data itself may not even be accessible due to being stored in private databases, it may exist in pay-per-use databases, or the collected data may not even be available for further use at all. We are excited to tackle such a challenge.