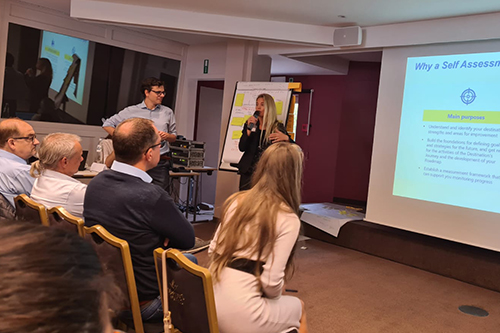 The Smart Tourism Destinations (STD) project is implemented through an European Commission's initiative and focuses on how EU cities can adopt DATA-DRIVEN approaches to become or improve as a SMART tourism destination.
The path involves a large number of stakeholders: policy-makers, private-sector practitioners and academic researchers.
Among the ten independent experts is also the Tourism 4.0 Lead, Dr Urska Starc Peceny who will support the establishment of the Smart Tourism Community of Practice and will provide COACHING and capacity-building services to the selected tourism destinations in order to build their competencies, expertise and benefits of working with data.
At the end of September 2022, STD successfully organized the First Meet-Up Event in Brussels.
The main objectives of the First Meet-Up event included:
Networking among destinations and Smart Tourism experts to set up peer-to-peer learning and establish sound collaborations.
Sustain and foster the development of a data-driven community active in the Tourism sector in the European Union.
Reinforcing the connection among EU initiatives on tourism.
At the event in Brussels, Dr Starc Peceny presented the Tourism 4.0 Readiness Index - Automated Assessment Tool powered by the AAT technology developed by Arctur, which will be the first step for selected destinations in this journey of improvement.
More about the project: https://smarttourismdestinations.eu/