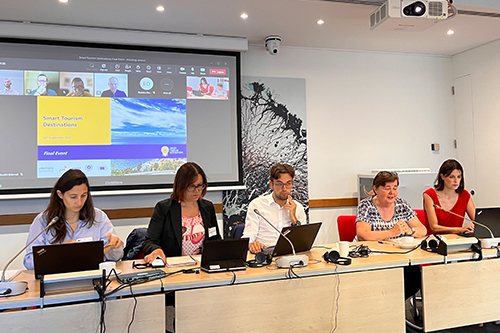 The Smart Tourism Destinations (STD) project held its final conference online on September 6th, 2023. The conference brought together representatives from tourism destinations, businesses, academia, and government from across Europe.
The STD project was launched in 2021 with the aim of supporting EU cities in their path toward a green and digital transition aimed at improving smart and sustainable management of urban tourism destinations. Over the past two years, the project has worked with a network of pilot destinations to develop and implement smart tourism solutions, among which 3 Slovene destinations participated. Ljubljana, Postojna and Kranjska Gora benefited from receiving counselling among 48 other destinations. 
The final conference was an opportunity to showcase the project's results and to discuss the future of smart tourism in Europe. A panel discussion with representatives from the pilot destinations was featured at the event to present good practices. The panellists shared their experiences of implementing smart tourism solutions and discussed the benefits that these solutions have brought to their destinations.
The final conference concluded with a call to action for destinations to continue to invest in smart tourism. The speakers and panellists emphasized the importance of collaboration and partnership between the public and private sectors to create a more sustainable and resilient tourism industry in Europe.
The Smart Tourism Destinations project has made significant progress in helping EU cities to become smarter and more sustainable. The project's findings and recommendations will be valuable resources for destinations as they continue to work towards becoming smart tourism destinations.