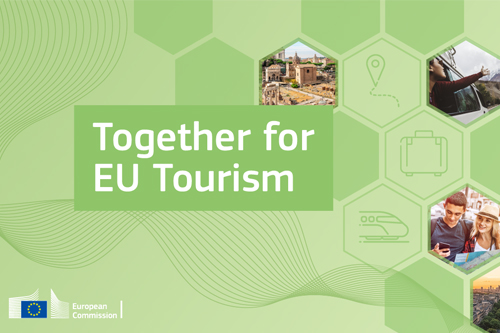 The European Commission's Directorate-General for Internal Market, Industry, Entrepreneurship & SMEs (DG GROW) organised a stakeholder event to support the co-implementation of the Transition Pathway for Tourism. This event aimed to share recent developments at EU level in the tourism sector, showcase good examples of stakeholder commitments and pledges, and facilitate exchanges and engagement of the stakeholder community.
Two morning sessions gave insight into the current state in the tourism ecosystem and into an overview of pledges and commitments. Again, tourism innovation spirit was sparkling at the European Commission in Brussels.
In the afternoon the first meeting of the Together for EU Tourism (T4T) expert group took place. This expert group was selected by DG GROW to support the implementation of the Transition Pathway for Tourism. 55 members and observers from all over the tourism ecosystem work in 3 subgroups: Digital transition, Green transition and Resilience/Skills/Inclusion. Dr. Urška Starc Peceny, lead of Tourism 4.0 at Arctur is participates in the expert group, contributing in the digitalisation topics.