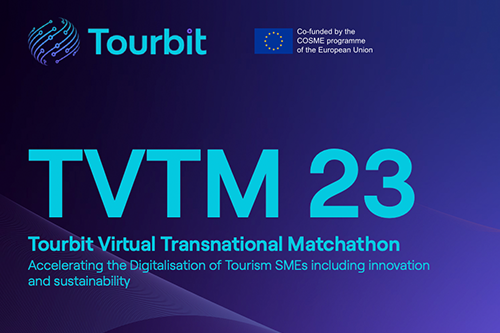 The Tourbit Virtual Transnational Matchathon saw impressive attendance this year, with more than 180 attendees participating over the course of the two-day event.
The first day of the Matchathon (June 15th), which was open to all tourism SMEs, featured an inspiring morning session focused on addressing key trends, challenges and needs in the tourism sector. In total, eight Tourbit Service Providers from around Europe were selected to present quick pitches about their companies and the solutions they provide to common challenges faced by tourism SMEs. The attendees then split into four thematic rooms focusing on innovation in business models, innovation in products, digital marketing and social & environmental sustainability. Each room was coordinated by a facilitator who presented the topic for discussion and invited the participating tourism SMEs and services providers to share  their needs and reflections, in order to find potential solutions.
Following on from the success of the first day, the second day of the Matchathon (June 16th) focused on facilitating matches between Tourbit Service Providers and a select group of tourism SMEs chosen to participate in the project's Digital Acceleration programme. Under the guidance of experienced mentors, more than 60 bilateral meetings between SMEs and service providers took place, resulting in several successful matches. Additionally, attendees also had the chance to listen to testimonials from other tourism SMEs about their digitialisation process. These events provided attendees with an ideal opportunity to network, learn from their peers, and hopefully build long-lasting relationships that will shape the future of tourism SMEs' businesses and thus the wider tourism ecosystem.
Finally, this sesson also marked the kick-off of the Tourbit Digital Accceleration programme, a 10-month programme which offers awarded SMEs the chance to accelerate their digital transition with the support of experts and established service providers.
For those who were unable to attend TVTM23, recordings of the sessions from both days are available here.