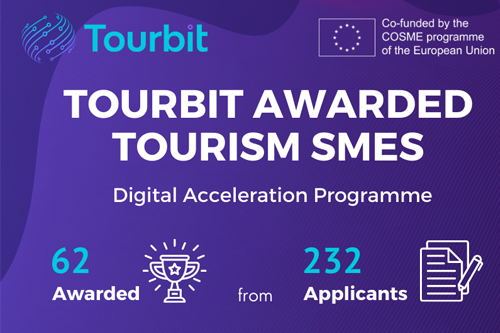 In February 2023, the Tourbit project launched a call for proposals for tourism SMEs aiming to finance innovative digitalisation projects for tourism SMEs located in Belgium, Catalonia (Spain), France, Iceland, Lapland (Finland), Portugal and Slovenia. The call raised a lot of interest from the tourism sector as it received 232 applications until April 2023.
After a thorough evaluation process undergone with internal and external evaluators, the Tourbit partnership is pleased to announce that 62 tourism SMEs from 7 countries will benefit during 10-months from the Tourbit Digital Acceleration Programme that started on 1st July 2023.
Tourbit's Digital Acceleration Programme beneficiaries will receive financial support of up to 9,000 EUR to implement their digitalisation project through the support of service providers, such as mentors, consultants, and/or technology/innovation providers from the Tourbit pool. The European project Tourbit will deliver a total of 520.000 EUR to support the digitalisation projects of 62 tourism SMEs.