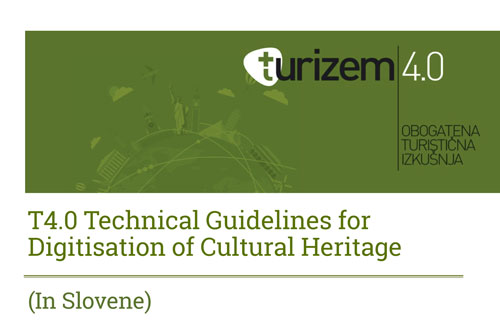 When producing digital content in the field of cultural heritage, the issue of quality of digital materials and consequently the minimal standards for processes of digitisation often comes up. The new update of the T4.0 Technical Guidelines adds and refines these standards and stresses the importance of accessibility and storage.
Guidelines for digitisation of cultural heritage are intended for heritage institutions, local and national authorities as well as service providers, and aim to assist in public procurement procedures and at the practical level in digitisation processes.
The new update expands on the technical guidelines for digitisation of cultural heritage of 3D objects, visual, audio, video, 360° materials and point to references regarding metadata. Additional attention is given to the resolution of 3D models and preparation before 3D scanning (e.g. georeferencing). Longterm storage and accessibility of materials for people with disabilities are especially stressed.
---
Ob ustvarjanju digitalnih vsebin na področju kulturne dediščine se pogosto odpre razprava o kakovosti materialov in posledično minimalnih standardov za procese digitizacije. Nova posodobitev T4.0 Tehničnih smernic dodaja in dopolnjuje te standarde ter poudarja pomen dostopnosti in dolgotrajne hrambe.
Smernice želijo vsem akterjem, ki sodelujejo v procesih digitizacije – dediščinskim institucijam, lokalnim in državnim oblastem, drugim javnim službam, tehnološkim podjetjem ter vsem ostalim, ponuditi tehnični okvir za načrtovanje in izvajanje digitizacije kulturne dediščine na praktičnem nivoju pa tudi pri oblikovanju javnih naročil.
Nova posodobitev razširja tehnične smernice za digitizacijo tridimenzionalnih objektov (npr. nepremična kulturna dediščina), slikovnih, zvočnih, video in 360-stopinjskih gradiv in usmerja na povezave z navodili za pripravo metapodatkov. Dolgotrajna hramba in dostopnost materialov za osebe z oviranostmi so še posebej poudarjene.