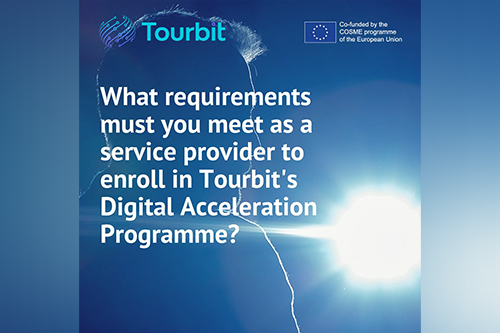 The TOURBIT project (Fostering digitalisation of European Tourism SMEs) is seeking experts to enrol in the TOURBIT's Digital Acceleration programme. This 'Call for service providers' provides information about the expert profiles being sought, requirements that must be met, and the process to apply.
Background
The Call for the Admission of Service Providers is launched in the framework of the TOURBIT Digital Acceleration Programme under which the project will select and provide financial support to up to 62 tourism SMEs from the 7 TOURBIT partner territories for the implementation of digitalisation and innovation projects in their businesses.
The TOURBIT project is based upon the framework of three pillars 'Learning, Building, Testing and Implementing' with the intent toenact a transnational and cross-ecosystem support service for tourism SMEs. The TOURBIT Acceleration Programme, being a part of the Test and Implement pillar, aims at financially supporting tourism SMEs in taking advantage of digitalisation's potential to boost innovation, increase productivity, to generate economic growth and environmental efficiencies.
For the implementation of their projects, selected SMEs will have to contract verified service providers financed through the grant provided to them. Based on the present Call for the Admission of Service Providers, TOURBIT will select and admit service providers to create a pool from which tourism SMEs can choose the most appropriate provider to support their project implementation.
What requirements must you meet to register as a service provider in TOURBIT's Digital Acceleration programme:
Be an individual professional or a company/start-up with minimum 3 years of experience in digitalisation/technology application for SMEs 
Have expertise or provide service in Cloud computing, Digital workspace solutions, Data Analytics and Data management, Cybersecurity, Digital marketing and communication, AI, IoT, AR &VR and Blockchain
Be a resident or registered in the European Economic Area or Switzerland
Service providers are invited to apply to this call by submitting their application through the online application system, and filling in all required fields.
The TOURBIT project started in January 2022 and will work on its activities and objectives until June 2024. It has an overall budget of 1,331,570 € and is 75% co-funded through COSME, the European Commission's programme for the competitiveness of small and medium-sized enterprises. The project brings together eight partners from seven EU territories and Arctur, the Tourism 4.0 initiator, is proud to be a part of the team.