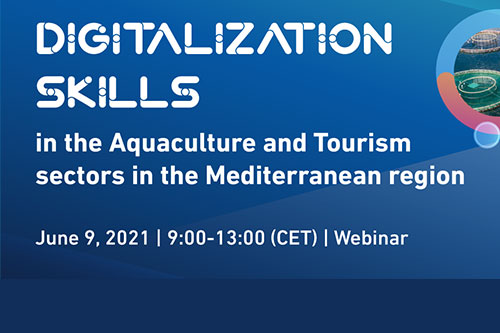 Urška Starc Peceny, PhD, Tourism 4.0 Dept. lead in Arctur, was among keynote speakers at the international conference »Digitalization skills in the Aquaculture and Tourism sectors in the Mediterranean Region« that was held virtually on the 9th of June.
The key thematic area of the event were digitalisation skills in aquaculture and the tourism sector in the Mediterranean region. The conference was co-organised by the Union for the Mediterranean and WestMED. It provided an overview of the state-of-the-art and needs in digitalisation skills in the Mediterranean region, with a particular focus on aquaculture and tourism. The event gathered representatives of government agencies, national and regional organizations, SMEs, local businesses, start-ups, academia, decision-makers, as well as end-users from the field of blue economy and ICT sectors.
Urška Starc Peceny, PhD, was a guest speaker in the Tourism & Digitalisation panel, where she presented Tourism 4.0, its partnership, goals, hi-tech innovative tools and services with its implementation in the real environment.