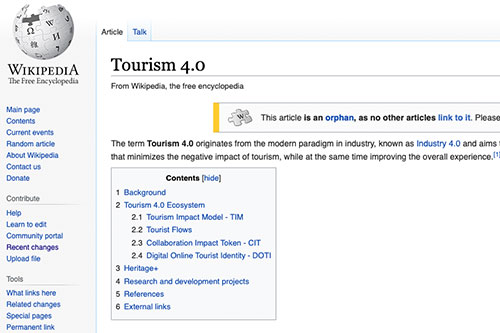 We proudly present that Tourism 4.0 became a member of the largest free global encyclopedia Wikipedia. Since its creation on January 15, 2001, Wikipedia has grown into the world's largest reference website, attracting 1.8 billion unique-device visitors monthly as of August 2021. It currently has more than fifty-seven million articles in more than 300 languages, including 6,399,766 articles in English.
Now, Tourism 4.0 is part of this lead online encyclopedia. You can check its content here.
Do you manage similar content? Let's interlink it!
Background
Tourism 4.0 Ecosystem
Tourism Impact Model – TIM
Tourist Flows
Collaboration Impact Token – CIT
Digital Online Tourist Identity – DOTI
Heritage+
Research and development projects
References
External links