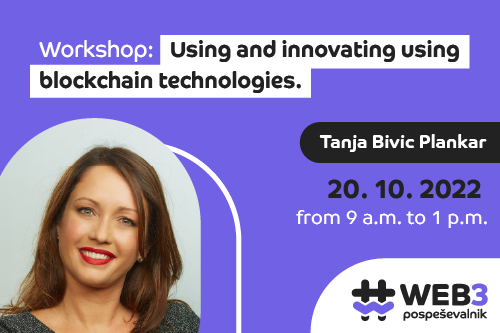 Enter the new world shaped by Web3 technologies and use its potential to your advantage. We invite you to join us by applying to our first workshop: Using and innovating using blockchain technologies
The workshop will take place on Thursday, 20 October 2022, from 9:00 a.m. to 1:00 p.m. in the Chamber of Commerce and Industry of Slovenia (Chamber of Commerce of Slovenia, Dimčeva 13, 1504 Ljubljana).
The worskhop is intended for all companies (micro, small, medium-sized companies, also limited liability companies) that want to simplify their business, save time and take advantage of the potential that modern technologies, such as Web3 have to offer. Among other eligable participants are also the companies receiving financial incentives from the Slovenian Entrepreneurship Fund.
Tanja Bivic Plankar, president of the Blockchain Alliance Europe cooperative, will lead you into the world of innovation in a simple, interactive and practical way.
Workshop content:
basics of blockchain technology and key advantages (decentralisation, transparency, automation and elimination of intermediaries),
implementation of technology in business processes,
security,
innovative business models based on tokenisation and cycles that lead to the integration of blockchain into various processes and systems,
active discussion about digital identity and the reasons for its introduction into private and public systems.
About the facilitator:
Tanja Bivic Plankar, blockchain technology expert
Tanja Bivic Plankar is the president of Blockchain Alliance Europe cooperative, which represents companies that develop and/or implement blockchain technology in Slovenia and Europe. The goal of the cooperative is business cooperation between companies, as well as education and raising awareness among both professional and public  audience about blockchain technology and crypto-assets. She started her career at Television Slovenia, where, in addition to her leadership and editorial skills, she oversaw the digitisation of Television Slovenia and the provision of content on various digital channels. She  was also part of the expert group for social networks. Since 2016, she has also been part of the Slovenian blockchain community, participated in marketing campaigns and in the creation and implementation of Slovenian and foreign projects that focus on blockchain technology. Since 2018 she has also been the president of Blockchain Alliance Europe. She is also the coordinator of the blockchain technology group at the Slovenian Digital Coalition.