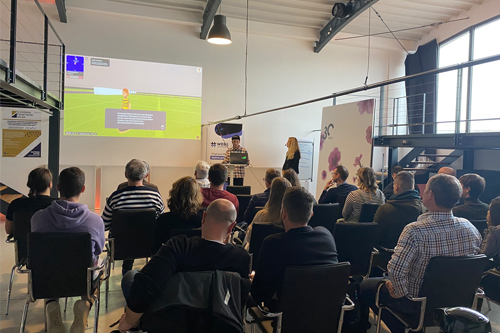 On Thursday November 10th 2022 Web3 accelerator programme participants entered the world of the future as it is being shaped by emerging Web3 technologies today. The third workshop was devoted to two very hot topics – metaverse and virtualization, thus the title Metaverse and business opportunities brought by virtualisation.
At the workshop, the participants learned the basics of the metaverse (VR, AR, 3D, AI, blockchain, NFT, monetization), and in the second part of the workshop, they brainstormed on how to use these technologies in their business.
Arctur experts, Dr. Urska Starc Peceny, CIO and Lead of Tourism 4.0, and Matevž Straus, Lead of the Heritage+ program, shared valuable knowledge with the participants and guided them through the brainstorming process.
Advices from speakers can be summarised as follows:
Metaverse development has been accelerated with the development of VR computer games, but it is becoming a separate field in its own right, offering new digital business models for companies from all branches of the economy (and the public sector).
The technological know-how and experience that the Slovenian companies such as Arctur have in the fields of blockchain, 3D models, and 360° photos offers the basis for the development of a decentralised metaverse. That is an exceptional opportunity for the tourism sector and tourism-related sectors (MICE industry, gastronomy, culture and creative industries etc.).
Opportunities for Slovenian companies in the metaverse are of a marketing and promotional nature, as using metaverse technologies (AR/VR, 3D, internet) and digital content marketing (mainly as NFT) bolsters their prospects to reach new customers.
One of key steps required for unlocking metaverse potential is collaboration between companies and institutions in the joint development of Web3 solutions.
Arctur organised the Web3 series of free workshops on behalf of the Slovene Enterprise Fund with intent to successfully prepare early stage companies for the challenges of the future.