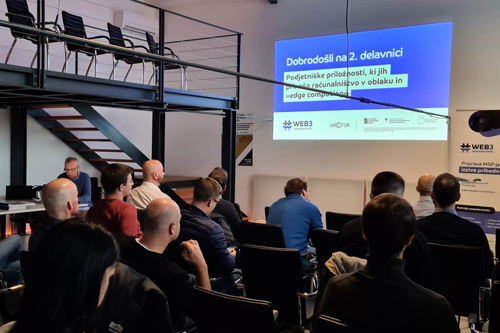 On Thursday November 10th 2022 we successfully implemented the second and third workshop of our Web3 Accelerator programme supported by the Slovene Enterprise Fund. The Web3 series of workshops was free and developed with intent to successfully prepare early stage companies for the challenges of the future.
The second workshop titled 'Business opportunities brought by cloud & edge computing' was dedicated to benefits those technologies bring to business.  Tomi Ilijaš, founder and CEO at Arctur and Samo Eržen, senior research engineer, shared their knowledge and real-use cases with participants.
Three key takeaways from the workshop are:
Cloud computing offers companies a foundation for digital transformation, leading them in the direction of the service economy. Startups have already been born in the cloud. Older companies on the other hand need to manage their technology debt, which means that their transition to the cloud is more challenging and requires careful planning.
By moving to the cloud, companies gain the possibility of ubiquitous access to services (anywhere, anytime, on any device), elasticity of resource use, pay-as-you-go models and improved information security. Companies can choose between several ways of using cloud services, including SaaS, PaaS and IaaS.
By implementing edge computing, companies ensure the creation of value along the entire digitalisation chain – from device sensors to cloud – where local processing of large amounts of data enables increased speed, reduced latency, high scalability, and security and privacy by keeping data close to where it is created.
Key takeaways from the third workshop are accessible in a separate article.