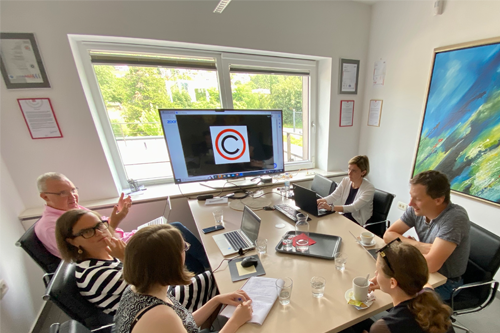 The third meeting between project partners in the Blockchain for Agrifood Educators project took place on 6th July 2023, and was hosted by Arctur d.o.o. in Nova Gorica, Slovenia. This meeting focused on establishing a plan to create open education resources (OERs) to provide educators and teaching staff with new pedagogic content and teaching resources to integrate blockchain teaching into their curricula. This OER work package is co-led by Arctur and and Czech University of Life Sciences (CZU), whose combined expertise in design and delivery of capacity building programmes and blockchain technology make these two partners uniquely well-equipped to achieve this vital objective.
The content of the meeting included:
A presentation from Arctur outlining the Slovenian partner's preliminary research into blockchain in the agri-food sector to date
An examination of a number of real-world use cases and suggested learning exercises.
A constructive debate about the uses of blockchain and its greatest strengths and weaknesses as a technology. In particular, blockchain's ability to enhance trust and cost-efficiency within the agrifood supply chain were highlighted as major strengths of the technology, while the lack of general knowledge and appropriate legislation were identified as two major barriers to blockchain's wider implementation.
Having identified these major strengths and challenges, this meeting will inform the creation of the Blockchain Education in Agrifood Sector OERs in the next stages of the project. Ultimately, the overall aim of the Blockchain for Agrifood Educators project is to empower academics and lecturers in HEI from facilities of agribusiness, food science, engineering, and nutrition departments to unlock the power of Blockchain for their agrifood student population, while also providing leadership for industry players in their regions.