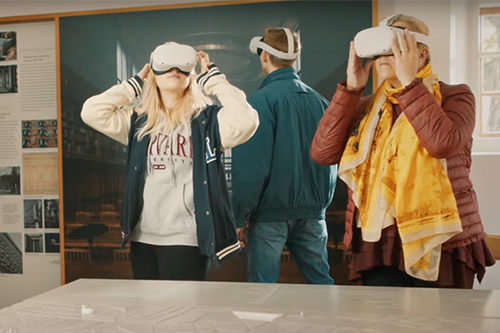 As you have probably already heard, the Tourism 4.0 partnership, initiated by Arctur, is paving the way for Slovenia to become one of the most advanced European countries in digital innovation of cultural heritage.
In 2020, the Tourism 4.0 initiative has, co-financed by the Ministry of Economic Development and Technology, prepared a step-by-step guidelines on Digital Innovation of Cultural Heritage followed by a one-of-a-kind Digital innovation of cultural heritage portal with 3D models, presenting the 2-year work of 31 leading Slovenian tourist destinations.
One of tourist destinations who took up the challenge was also our beautiful capital city of Ljubljana and we had, for our partners Ljubljana Tourism, produced an internationally awarded case study of digital innovation of Jože Plečnik's heritage.
What do we mean when we say 'an internationally awarded case study'? Well, a unique 5-star experience of Jože Plečnik's heritage, produced by Arctur's Heritage+ programme, has been awarded by the international association of the European Cultural Tourism Network (ECTN).
The ECTN Awards Contest is open to tourist destinations across Europe, to showcase their results and outputs in sustainable cultural tourism under several selected categories each year. The 2022 ECTN Award Theme had been set to be the 'Relaunching European Tourism through Cultural Heritage & Digitalisation', aiming at awarding cultural tourist destinations which have produced significant results related to enhancing visitor experience while respecting traditions and involving local host communities.
In the category of Digitalisation of sustainable cultural tourism in the direction of the development of smart destinations, the Digital Innovation of Plečnik's Heritage project won third place! We are so proud of our partners and we look forward to our joint future ventures – as already mentioned in one of our previous articles, this is not the first award the digital innovation of Plečnik's Heritage had won.
It seems to us that the path Slovenia is taking toward becoming one of the leading European countries in the field of unique tourist experiences through the systematic digital innovation of cultural heritage is time and time again proving to be the right one and it feels so great to be able to co-create this innovative narrative!