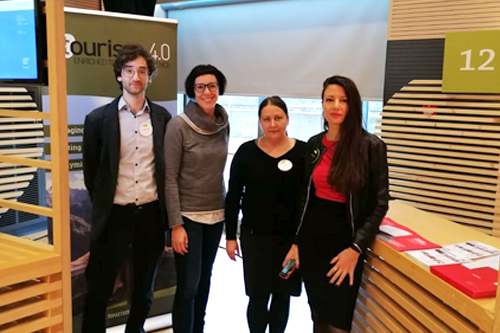 Arctur took part in the "IT Tour" event organised by the Slovenian Tourist Board in the scope of the Slovenian Tourism Days multiday event. In addition to training on digitalisation, selected tourism stakeholders presented their digital stories. Arctur joined the presentation of an example of the success story of the Postojna Knowledge Institute, where Špela Peric presented the experience of using Arctur's innovative tool Tourism Impact Model. The story generated a lot of interest, which shows that awareness of the importance of data in tourism is becoming more widespread. Along with this, more and more decision-makers are resorting to the use of real data when making strategic decisions.
Tourism can be optimistic about future development, which will be based on the use of real data collected in the local environment. In cooperation with the Idrija Tourism Board, Arctur also presented the online platform of Joint Tickets for Tourist Experiences at the digital story stands. The visitors were mainly convinced by the simplicity of the user experience. Representatives of tourist destinations praised the possibility of combining the best local offers into unique experience packages, easy use by scanning QR codes, the possibility of insight into analytics and, above all, the functionality of automated sharing of revenue from sold tickets between providers.
In addition, quite a few stakeholders were present at the event, presenting products of digital innovation of cultural heritage - #3D modeling, where Arctur contributed as a technological partner. Among them were Visit Ljubljana, Visit Saleska, the RRA Posavje and Visit Izola.