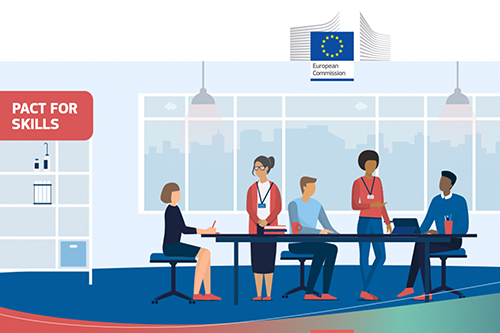 We are pleased to inform you that Arctur deepened its sectoral cooperation on the road to the 2023 European Year of Skills by becoming a proud Pact for Skills member. No company or institution is immune to trends affecting today's labour market – green and digital transitions, COVID-19 and the situation in Ukraine, and demographic change are some of the most prevalent ones, all leading to changing skills needs.
The Pact for Skills is one of the flagship initiatives under the European Skills Agenda and Arctur is a new Pact member. Through its recent Erasmus + supported project like the Blockchain for Agri-Food Educators or Managers of European Smart Destinations (MEDS) project, we already showed we are conscious of the EU's need to train new professionals to strengthen sustainable competitiveness and build resilience to react to crises. Now we are just making it official.
Since its launch in November 2020, the Pact for Skills has joined over 1000 individual members, including large multinational companies, SMEs, local training providers, and chambers of commerce. Joined together we are all in agreement with the European Comission's findings that "the rapid shift towards a climate neutral Europe and digital transformation is changing the way we work, learn, take part in society and lead our everyday lives. Europe can only grasp these opportunities if its people develop the right skills". Equipping ourselves with the right skills means positioning ourselves for future challenges, and that is exciting, don't you think?