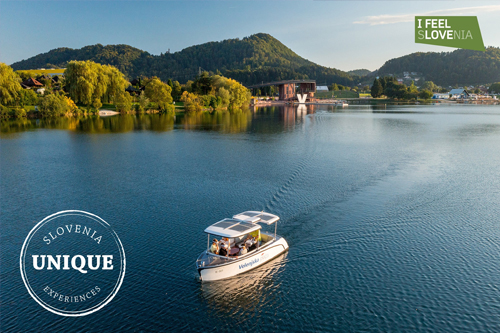 We are extremely proud to point that our partners Šalek Valley Tourist Board went that extra mile and really used new technologies to co-create a boutique 5-star tourist experience with Arctur, as a consequence now being awarded the Slovenia Unique Experience label.
As a part of the Digital Innovation of Cultural Heritage tender by the Ministry of Economic Development and Technology, Slovenian leading destinations were given the opportunity to digitise their heritage and to create unique 5-star experiences
Cooperating with Arctur, Šalek Valley tourist Board heard the call of the future and decided to try to create something unique and the product 'Submerged villages of Velenje lake' has been produced.
A tourist product, incorporating digital technologies, takes one on an exploration, building on a history of lakes that have been created because of coal mining in the area. These artificial lakes grew to a current size in only 100 years and thus several villages needed to make space for this rapid growth. People needed to evacuate, leave their homesteads and move to either the city or other villages. The story: Deep in the lakes of Šaleška dolina near Velenje are hidden and almost forgotten villages – our very own Slovenian Atlantida.
With the support of the VR, visitors can descend to the bottom of the lake and observe a 3D digitally reconstructed village of Škale. The hyper-reality of 3D reconstruction connects the visitor with the stories of the former inhabitants and the price some needed to pay for the progress of the local community.
Arctur also co-created two other Slovenia Unique Experiences - a gamified VR guided tour through Plečnik's difficult-to-access works in 'Master Plečnik' and the digital room e-Castles of Posavje 'Magnificent seven – inspiring stories of Posavje castles'.