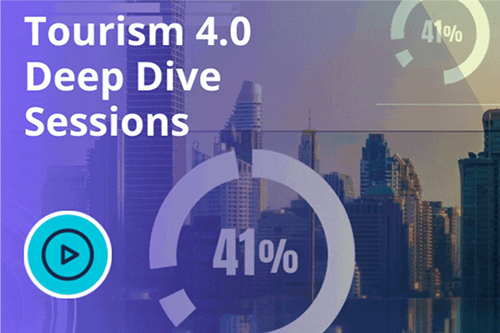 We are thrilled to inform you that the activities of TOURBIT project will start soon!
TourBIZZ – The Tourism Business Community is already available online, register (info below!) and get access to all the webinars aiming to increase your digital awareness on state-of-the-art technologies for the tourism industry:
Tourism 4.0 Deep Dive sessions: every Tuesday at 11h CET starting on May 31th, experts will show you how different 4.0 technologies can contribute to improving products, services and processes in your SMEs, as you will witness real cases of use from other companies. Save the date on your agenda of our 7 online live free of charge webinars focusing on:
31.5.2022: Data Analytics, understand the meaning of your company's set of numbers
7.6.2022: Augmented Reality (AR), opportunity for tourism in the post COVID19 & Virtual Reality (VR), as an immersive experience for the valorisation of tourism products. Zoom link
14.6.2022: Tourism SMEs empowered by Artificial Intelligence (AI). Zoom link
21.6.2022: Internet of things (IoT), definition and application in tourism businesses. Zoom link
28.6.2022: Make your company more integrated through the Cloud Computing. Zoom link
5.7.2022: Cybersecurity, the security and data protection of new digital travellers. Zoom link
12.7.2022: Demystify Blockchain technology for SMEs. Zoom link
Registration and links to sessions are available on Zoom (above) or in the TourBizz Community where you can also watch the recordings of previous sessions (join the Community with this direct invitation link)!
Benefits of joining:
Connect and build a network with your peers from across Europe
Receive the latest industry updates on innovation, digitalisation, and sustainability
Get access to free of charge webinars, trainings, and other content
Learn about good practices and share your experience with like-minded
Find the right providers, experts, and mentors to support your green and digital transformation
Be the first ones to receive updates on Tourbit financing for your digitalisation process
Coming soon!
Presentation of the 2022 Release about the top technologies for tourism SMEs in our Tourism 4.0 Introductory webinar, a pre-recorded online webinar ready to watch online since June 1st.
Digital Readiness Index (DRI): TOURBIT online self-assessment tool to assess your state of digitalisation and receive recommendations to boost it.
For more information about the TOURBIT project, remember to check our website www.tourbit.eu and follow us in Twitter and LinkedIn.