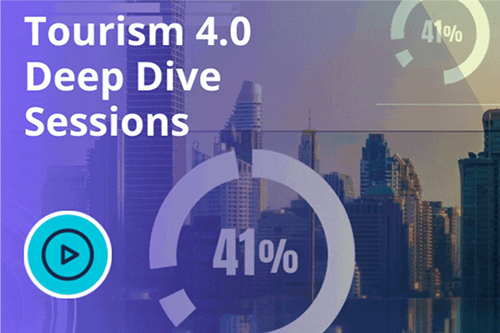 7.6.2022 / 11:00 CET: Augmented Reality (AR), opportunity for tourism in the post COVID19 & Virtual Reality (VR), as an immersive experience for the valorisation of tourism products
Augmented Reality (AR) and Virtual Reality (VR) are technologies with a large potential to add value to the tourism industry. For instance, they allow tourists to experience a destination virtually before they even arrive, or digitally enhance a real-world scene on-site, which is increasingly appreciated by the younger generation. AR and VR are giving opportunities to tourism businesses to present and promote tourism products lively, while the potential customer might still be sitting at home on his/her couch only dreaming about a trip to your destination. Both AR and VR technologies will boost revenue through promoting existing businesses or creating new digital tourism products. 
During this webinar we will introduce you to the possibilities these technologies offer to the tourism sector and present you two practical use cases for your inspiration. 
This webinar forms part of a series of webinars (Deep Dive Sessions) on different technologies relevant to the tourism sector hosted by the Tourbit project. 
AGENDA:
11:00 h CET: Welcome and Tourbit project Introduction, Maarit Tihinen and Sandra de Puig Faura
11:05 CET - Introduction on AR/VR in tourism, Jenny Janhunen 
11:20 CET - Use case 1. Urška Starc Peceny
11:30 CET - Use case 2. Simon Katz
11:40 CET - Discussion: Q&A
11:45 CET - Closing
SPEAKERS:
Jenny Janhunen, tourism lecturer and regional developer in Lapland, will present the possibilities of experience technologies in tourism SME's from the perspective of VR and AR.
Urška Starc Peceny, CIO and Head of Tourism 4.0 department at Arctur from Slovenia, will present the best cases of digitalisation of cultural heritage in Slovenia using Augmented and Virtual Reality. The cases are part of the Arctur's Heritage+ programme, aimed at developing new tourist experiences inspired by the rich local cultural heritage and promoting and documenting cultural heritage using different advanced 3D technologies. More info here.
Simon Katz, VR expert at OneBonsai from Belgium, will introduce how virtual reality training & experiences are used today in the tourism sector.
JOIN AND REGISTER: