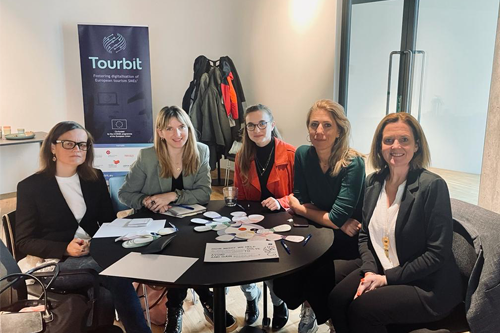 The third consortium meeting of the Tourbit project took place from May 22nd to 25th in Reykjavík, Iceland, where partners from across Europe came together to discuss the project's next steps and brainstorm about forecasted activities. Key items on the agenda included the evaluation of SME applicants for the Digital Acceleration Programme; organisation of the Virtual Transational Matchathon (June 15th & 16th); planning the Go Digital Skills Programme; feedback on the Digital Readiness Index; leveraging the potential of the TourBIZZ community; and looking forward to the final Tourbit conference in Barcelona in February 2024.
As a Hi-Tech project partner, Arctur's main contribution to the Tourbit project, which aims to foster digitalisation and innovation among tourism SMEs, was the development of the Digital Readiness Index (DRI). The Tourbit DRI is a data-collecting tool designed to assess the digital maturity of tourism SMEs across different areas and functions and provide recommendations on how to improve their state of digitalisation. At the consortium in Reykjavík, Arctur presented the learnings of the DRI survey to date and opened the discussion on how to improve this useful tool to best support SMEs. In addition to implementing improvements to the DRI, Arctur's continued role in the project will also involve providing support to tourism SMEs participating in the Accelerator programme to kickstart their journey in digitalisation.
The Reykjavík consortium, which was hosted by the Iceland Tourism Cluster, also offered partners the chance to participate in the Iceland Innovation Week and familiarize themselves with the Nordic tourism ecosystem. Finally, the Tourbit project was also presented to a wide range of stakeholders from the tourism and technology sectors as part of the Iceland Travel Tech 2023.