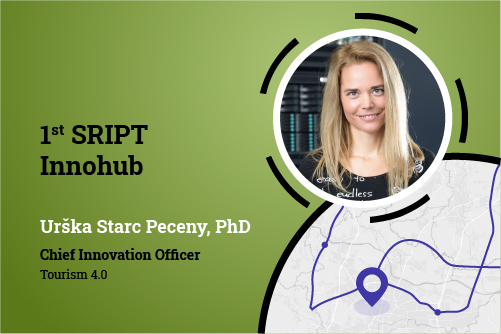 InnoHub took place virtually on March 10th and was organised by Strategic Research Innovation Partnership for Sustainable Tourism (SRIPT) which aims to support Slovenia on its way to a leading green and responsible tourist destination. Tourism 4.0 is a proud and active member of SRIPT.
InnoHub brought together more than 120 guests and present 17 exceptional innovative and digital solutions in Slovenian tourism. At the all-day online gathering, innovative solutions and digital transformations in tourism were presented, which leads Slovenian tourism to even greener, safer, digital tourism with exceptional services.
The purpose of InnoHub was to connect, network and support in launching new collaborations. The event offered an opportunity to share the good practices, contacts of various stakeholders from the public and private sector to create and form connections for future collaborations.
Dr. Urska Starc Peceny, Tourism 4.0 Chief Innovation Officer, presented Tourism 4.0 innovations, especially focused on the Tourism Impact Model and Digital Innovation of Cultural Heritage. Tourism 4.0 is breaking the ice in gathering and managing the data on a local level and using them in making better decisions.  

The importance and significance of co-creating tourism of the future were highlighted. Our mutual commitment has to be to create solutions that always put the quality of life of local residents in the centre.