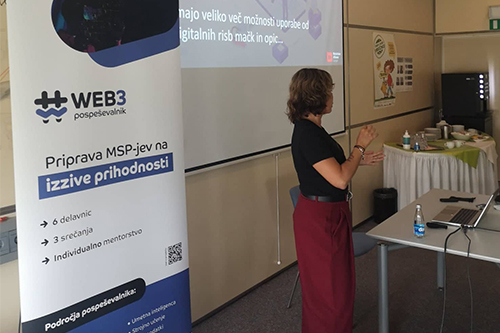 The first workshop of the #Web3 Accelerator series took place on October 20, 2022. It was about the application and innovation using blockchain technology.
In her presentation, the blockchain expert Tanja Bivic Plankar from Blockchain Alliance Europe discussed the specifics of blockchain technology, building blocks of the blockchain - distributed storage, consensus algorithms, smart contracts, wallets, decentralised identification, tokenisation, metaverse, edge computing, big data and many other technological components at the Web3 accelerator program.
#Web3 Accelerator is a form of supplement to the vertical accelerator program - intended for recipients of financial incentives from the Slovenian Entrepreneurship Fund and all companies in the early stages of growth who want to gain new knowledge in the field of using #Web3 technologies and successfully prepare their company for the challenges of the future.
Referring to historical facts, the speaker emphasized the powerful development of innovations, and the need for businesses to sometimes take risks, and apply the latest business ideas for their growth and improvement. 
If you want to improve your business model, get a financial incentive, and optimise working processes but also save time, you should join webinars on the use of Web3 technologies, where you can see its effectiveness with practical examples, expert guidance, and informal communication.
More about the workshops and the programme #Web3.
The workshops are free, however the number of the participants is limited. Apply here.