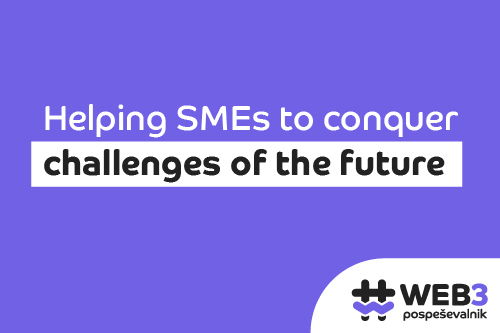 In the scope of the Web3 Accelerator programme organised by Arctur in coordination with the Slovene Enterprise Fund (SPS) six free of charge workshops had already been enacted. The aim of these lectures was to provide much needed support to innovative companies by both outlining theoretical foundations and showcasing practical use cases for emerging Web3 technologies such as blockchain, edge computing and cloud computing, artificial intelligence, machine learning, metaverse and virtualization, and ICT. Companies acquired new practical skills, elevated their knowledge and bettered their business in the process.
But the adventure of entering a NEW world shaped by Web3 technologies and using its potential for commercially successful development in business does not stop there.
For the 2023 edition of the Web3 Accelerator programme we are calling on all companies included the Slovene Enterprise Fund's portfolio to join us in the programme's next steps. Happening in the beginning of 2023 are the following lectures:
Usage of Virtualisation and VR/AR Technologies, Blockchain Application For Business, Utilising Big Data and AI/Ml Technologies In Business.
The aforementioned lectures are thus just the first part of the 2023 Web3 Accelerator's story. In the next chapter of the 2023 Web3 Programme our mission is to give the most innovative SME companies included in the Slovene Enterprise Fund portfolio access to individual counselling provided by select Web3 experts. Each selected SME company is going to be granted a subsidy to access from 5 to 30 consulting hours about developing new Web3 products or business models for further innovation, prototyping etc.
We really want to encourage innovation potential in the business world and the Web3 accelerator programme as a whole is our answer to the challenges of the future. Do read more about the programme by following this link. The above stated 2023 Web3 Accelerator programme's lectures' and consultations' costs are covered by de minimis State aid rules, as stated in the programme's description.
Looking forward to new joint Web3 experiences!