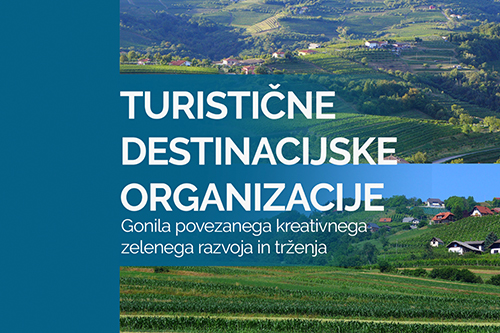 An important monograph titled Tourism Destinations Organizations: Drivers of Connected Creative Green Development and Marketing has been presented on Wednesday, January 18th 2023 at the Faculty of Tourism, a member of the University of Maribor.
Monograph's editors are Dr Tanja Lešnik Štuhec, Barbara Pavlakovič, and Assist. Dr Nejc Pozvek summarised the thoughts of more than 40 specialists that authored the monograph, including four compartments and 24 chapters that cover the most innovative topic of tourism management in Slovenia.
We are happy to say that Tourism 4.0 objectives co-created this impressive mosaic of forward-looking ideas by authoring an article, Tourism 4.0 – Transformation of Tourist Destinations Using Advanced Technologies found on page 245. Some of the brightest minds of our team, Tourism 4.0 lead Dr Urška Starc Peceny, Katarina Ceglar, Matevž Straus, Lead of the Heritage+ program, and Tomi Ilijaš, founder and CEO at Arctur, all significantly contributed to this article, presenting the logic behind the Tourism 4.0 initiative and some of its successes.
Starting from the biggest R&D publicly funded project in the field of tourism in Slovenia, Tourism 4.0 TRL 3-6 research project, followed by the Tourism 4.0 Demo Pilot TRL 7-9 project, both giving birth to (among others) multi-award-winning tools and applications such as the Tourism Impact Model, the Smart Camper Stop, or the digital innovation of cultural heritage, there are many successes that the article could also have highlighted, but instead rather focused on outlying the "Why" behind it all.
The Tourism 4.0 initiative is setting the foundations for tourism destinations, tourism destination managers, public/national authorities, research and education institutions, and others, to become independent, making independent data-driven decisions. That being the case, the Tourism 4.0 article proposes 10 key points for tourism's future development: collaboration; data stewardship; strategic planning on the basis of real-time data; establishment of open data exchange channels; multiple-times-data-usage; new knowledge and skill implementation; institution of the EU-wide data privacy structure; organisation of new innovative ways of data storage; nurture of the pioneering spirit; and finally, nobody is to be left behind in the upcoming digital revolution.
We can conclude that the monograph is a welcome and effective research instrument for a wide audience of stakeholders. It represents an important signpost, pointing at the future while also taking into account the criteria for the ethical development of the tourism ecosystem as a whole.